Russian river turns blood red in nation's latest environmental mystery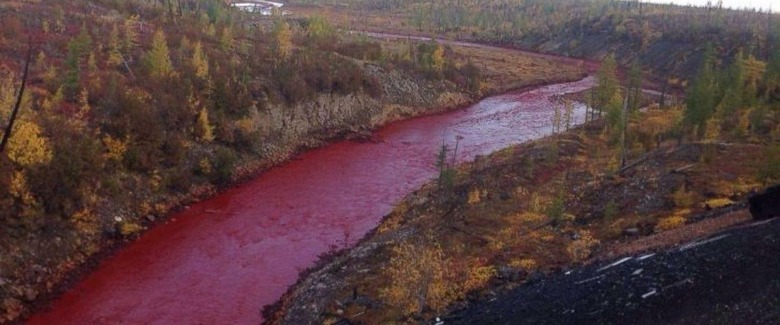 Russia, land of bears and ice and mystery. The nation is no stranger to fireballs falling from the sky and, more recently, huge deep craters appearing in the Siberian ice from seemingly nowhere. Now there's another mystery for locals to ponder: a river has turned blood red, something that doesn't yet have any determined cause but that, some think, may be the result of pollution. As it turns out, the Hope Metals Plant is located upstream and may be leaking.
According to ABC News, which itself has gathered details at least in part from Russian social media, the red water is found in the Daldykan River near a city named Norilsk, and it is strikingly colored like blood. Many locals apparently think the metals plant located upstream from the tainted water is to blame, and the nation's Environment Ministry is looking into that location as the most probable source of the issue.
Per the Environment Ministry's statements so far, the issue is thought to be waste leaks from Norilsk Nickel pipes, but no source has been found yet, and the Hope plant denies that the discoloration is the result of an accident. However — and quite unfortunately — it seems metal plants in the city have contaminated local water sources in the past.
Ore runoff into a nearby reservoir is reportedly known to have turned it a similar shade of red long before the river itself turned this color, earning it the nickname "red sea" and, in the winter, causing the snow to turn red. All the evidence, then, seems to point to this runoff making its way into the river as well as reservoir, raising concerns about the effect the pollution has on the environment.
SOURCE: ABC News
Image via ABC News