Russia threatens to lock US out of ISS as space tensions soar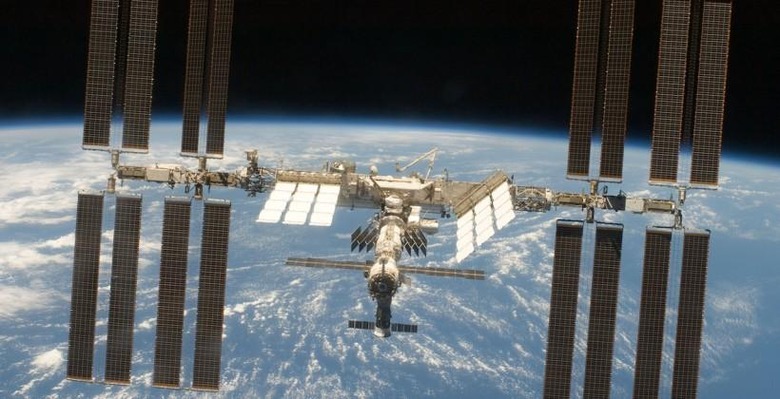 Russia has threatened to cut off access to the International Space Station and force the project to a premature close in retaliation over US sanctions, with NASA's orbiting research paying the price for growing international tensions. US plans to extend the ISS' life beyond the planned 2020 cut-off for another four years will be rejected, Russia's deputy prime minister said today, while also blocking the use of Russian rockets for upcoming launches.
Those rockets – and the Soyuz spacecraft they propel – have been NASA's only way to get astronauts, research materials, and supplies into orbit since the Space Shuttle program was shuttered. Various commercial space flight projects are underway, with SpaceX and others working on alternative options, but they're still some years out from taking over from the Russian rockets.
Deputy Prime Minister Dmitry Rogozin warned that Russia would no longer supply NK-33 and RD-180 engines to the US if they were to be used to launch military satellites. The United Launch Alliance (ULA) responsible for launching such hardware for the US Department of Defense has said it has sufficient supplies of rockets for two years of operations.
As for threat of rejecting NASA's proposals for extending the ISS' life until 2024, Rogozin said it was down to no longer trusting its former partner.
"We are very concerned about continuing to develop high-tech projects with such an unreliable partner as the United States," the politician suggested, "which politicizes everything."
The Russian government's frustration is around US sanctions on certain tech items being exported to the country, a response to the disruption in Ukraine. The US argued that the hardware would be used for military purposes, potentially in the Crimea region.
Meanwhile, Russia is also threatening to suspend GPS operations over its territory from June, though officials said that Russians themselves would be able to continue using the navigation and positioning system.
Even if the US can't access the ISS, that's not to say the space station would go unused. "The Russian segment can exist independently from the American one," Rogozin pointed out. "The US one cannot."
VIA Reuters