Rupert Murdoch Denies Color Ebook Reader Plans; News Corp "Neutral" On Platforms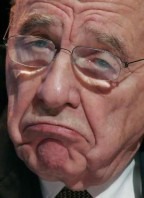 Despite speculation back in April that Rupert Murdoch's News Corp were investing in a color ebook reader device, the outspoken CEO has this week denied that it is the case.  Instead, Murdoch told interviewers on his own Fox Business channel, News Corp would be looking to be platform agnostic, distributing its content across any device from which subscription fees can be claimed.
According to Murdoch, the news organization has been talking with major ebook reader manufacturers including Sony, Fujitsu and Samsung about their device plans.  He suggests that large-scale penetration of the market won't occur for another one to two years.
Full quote after the cut
"I don't think that's likely. We're looking and talking to a lot of laboratories and big companies around the world like Sony, Fujitsu, Samsung. We're all working on wireless readers for books or for newspapers or for magazines.

I think they're a year or two away, being marketed in a mass way, high quality ones. And we will be absolutely neutral. We're very happy to have our products distributed over any device provided it's only going to subscribers who are paying for it." Rupert Murdoch
Murdoch's original comments were interpreted as signs that News Corp planned a "four color" (believed to refer to the four colors used in print ink processes) ebook reader device to take on the Amazon Kindle DX.  Instead, the company are now rumored to be looking at ways to better monetize content across multiple third-party devices.
[via GigaOM]