Rumor : New Mac mini to Launch at Macworld 2009 ?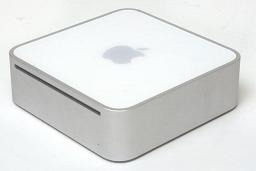 The year most anticipated Apple event is only a week away, rumors of what one can expect from Apple at this time of the year are heating up all over the map; first the refreshment of the dramatic iMac, then comes the bombshell of chairman Jobs pulling out the MacWorld keynote address and health's concern. Yeah, never a dull moment with em' Macs, and here's another for the coming Macworld. Mac mini is set to unveil at San Francisco next week!
Again, just like the last of many from the "insider sources"; it's a rumor at best, TUAW believed that the Mac mini will get on stage next week at Macworld. Details are thin but they expected three major changes :
Say hello to a black aluminium Mac mini
"lip" design similar to Time capsule to provide cooling, back vents are goner.
Internal optical drive will be SATA based, now you can swap it out with a secondary SATA storage.
Shameless plug : We'll be there to bring you live coverage, so make sure to check us out at http://live.slashgear.com