Rubik's 360 Follow-Up To Cube Set To Frustrate From February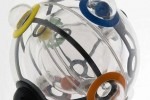 If handheld puzzles that don't require batteries are your scene, then prepare to become addicted.  The reclusive Hungarian behind the Rubik's Cube is back with the Rubik's 360, and as before the aim is simple: get each of the six colored balls into the correct colored bubble.  Blocking the way are two inner-spheres with a limited number of holes, meaning you have to carefully line things up and, once you start getting balls into place, balancing them so that they don't fall out.
UK newspaper the Telegraph handed a pre-release Rubik's 360 to Cube expert Dan Harris, who can solve the original puzzle in ten seconds and is a two-time British Champion at it.  According to Harris, the 360 is "addictive and engaging" just like the Cube, and shares a lot of its predecessors elements – the colors, the sturdy build, the (now louder) clicking – but with one key difference: this time, it's physics you're being tested on, balancing the balls, rather than math.  It took Harris two days to solve the 360 initially, which he's now pared down to a few minutes with practice.
If, however, like me you've never actually managed to complete a Rubik's Cube without considering peeling the stickers off for a unsatisfying but still tempting non-victory, you probably don't want to go anywhere near the new 360.  The Rubik's 360 will get its official debut at a toy industry fair in Germany on February 5th; no word on release dates nor pricing.
[via electro^plankton]