RSA SecurID System Hack Could Undermine "Effectiveness" Of Security Tokens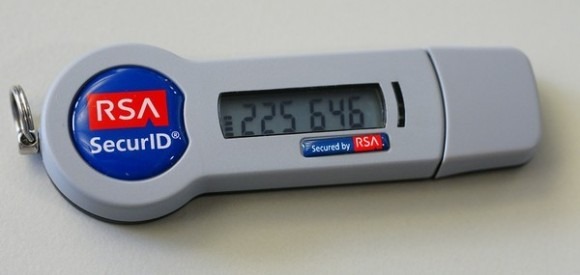 As bad security news goes, the confirmation that EMC's RSA system – at the heart of SecurID two-factor authentication products provided by many corporations and banks - has been potentially undermined isn't going to give many system admins much relief today. According to RSA Chairman Art Coviello, "an extremely sophisticated cyber attack" has been spotted that managed to extract "certain information" that "could potentially be used to reduce the effectiveness" of the SecurID tokens.
The exact nature of the information and the attack are not specified, but the company is keen to point out that no personal or customer information is believed to have been lost, and no other EMC products impacted. The RSA guidance is apparently to strengthen passwords and PINs while it works out the full extent of the security damage.
Open Letter to RSA Customers

Arthur W. Coviello, Jr.

Like any large company, EMC experiences and successfully repels multiple cyber attacks on its IT infrastructure every day. Recently, our security systems identified an extremely sophisticated cyber attack in progress being mounted against RSA. We took a variety of aggressive measures against the threat to protect our business and our customers, including further hardening of our IT infrastructure. We also immediately began an extensive investigation of the attack and are working closely with the appropriate authorities.

Our investigation has led us to believe that the attack is in the category of an Advanced Persistent Threat (APT). Our investigation also revealed that the attack resulted in certain information being extracted from RSA's systems. Some of that information is specifically related to RSA's SecurID two-factor authentication products. While at this time we are confident that the information extracted does not enable a successful direct attack on any of our RSA SecurID customers, this information could potentially be used to reduce the effectiveness of a current two-factor authentication implementation as part of a broader attack. We are very actively communicating this situation to RSA customers and providing immediate steps for them to take to strengthen their SecurID implementations.

We have no evidence that customer security related to other RSA products has been similarly impacted. We are also confident that no other EMC products were impacted by this attack. It is important to note that we do not believe that either customer or employee personally identifiable information was compromised as a result of this incident.

Our first priority is to ensure the security of our customers and their trust. We are committed to applying all necessary resources to give our SecurID customers the tools, processes and support they require to strengthen the security of their IT systems in the face of this incident. Our full support will include a range of RSA and EMC internal resources as well as close engagement with our partner ecosystems and our customers' relevant partners.

We regret any inconvenience or concern that this attack on RSA may cause for customers, and we strongly urge you to follow the steps we've outlined in our SecurCare Online Note. APT threats are becoming a significant challenge for all large corporations, and it's a topic I have discussed publicly many times. As appropriate, we will share our experiences from these attacks with our customers, partners and the rest of the security vendor ecosystem and work in concert with these organizations to develop means to better protect all of us from these growing and ever more sophisticated forms of cyber security threat.

Sincerely,

Art Coviello

Executive Chairman, RSA
[via Engadget]