Routon H3 Internet Home Media Player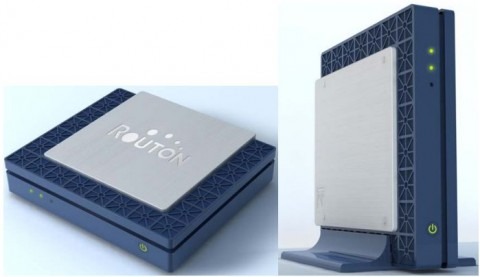 It's not just MIDs that Routon make: the company also has an HD Internet Media Player on offer, the Routon H3.  Based on Intel's CE3100 processor, with integrated MPEG2, VC-1/WM9 and H.264 hardware decoding, the H3 can output 1080p via HDMI together with stream media via gigabit ethernet or WiFi.  There's also a Bluetooth remote control with QWERTY keyboard and trackpad.
The Routon H3 also has between 500GB and 1TB of storage, for directly downloading torrents and other media files, and can be outfitted with a range of digital TV and cable tuners for DVR duties.  As well as media, the H3 can be used to browse the internet, with Flash support, together with instant messaging, photo browsing and slideshows, and Flash games.
Two USB 2.0 ports allow for the connection of external storage, and the H3 can also access files across the network connection.  As with the P760 and P730 MIDs, Routon is looking for distributors for the H3, so there's no word on availability; the internet home media player should officially launch in May.