2019 Rolls-Royce Cullinan revealed: The new super-SUV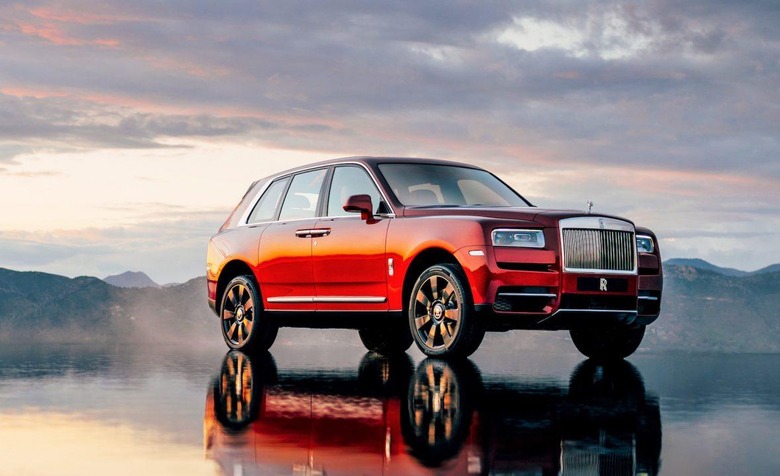 This is the Rolls-Royce Cullinan, and if your primary complaint about the SUV segment was that it lacked extreme luxury, you're in for a treat. Taking on the Bentley Bentayga, Lamborghini Urus, and others as the must-have off-roader for the well-heeled, Cullinan promises not only the pinnacle of bespoke luxe but true go-anywhere abilities.
It's named after something suitably ostentatious, the Cullinan Diamond. Largest ever discovered, it was set – and remains – in the British Crown Jewels. Not exactly the most wearable set of jewelry for everyday use, but Rolls-Royce claims Cullinan the SUV is different on that front.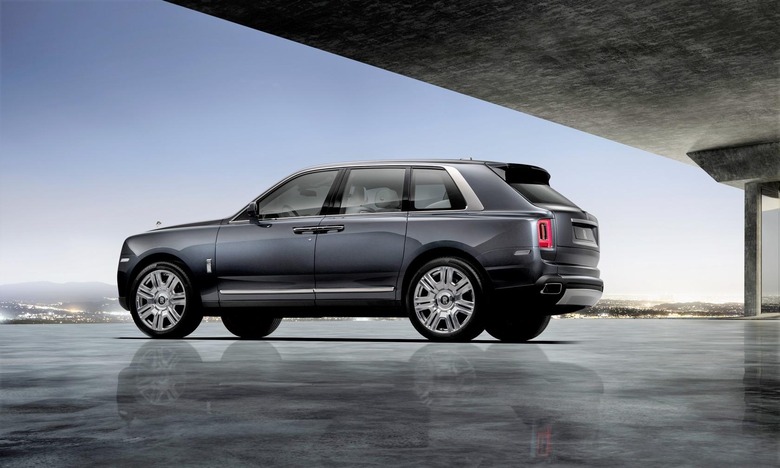 Indeed, the automaker is describing its newest model as "the most practical of Rolls-Royces." Now, when your stablemates are vehicles like the huge Phantom sedan and similarly sizable Dawn Convertible, practicality is clearly a relative thing. All the same, if you want to travel as a group of up to five, complete with luggage, and not give much consideration to the sort of terrain you plan to tackle, the 2019 Cullinan is certainly the Rolls-Royce we'd pick.
No off-road pretender
As with the new Phantom, the Cullinan is based on Rolls-Royce's Architecture of Luxury. The aluminum platform was designed with the flexibility to underpin an SUV in mind – including supporting a folding tailgate – in addition to different propulsion, traction, and control systems. It also handles the fact that Cullinan is the first car in the automaker's history to be all-wheel drive.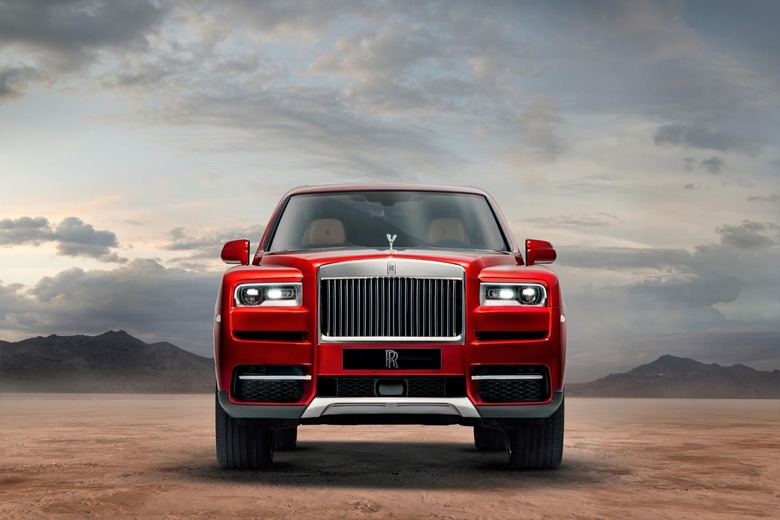 For its SUV, it tweaked the spaceframe into something higher and shorter, and then introduced a new air suspension system. Still dubbed the "Magic Carpet Ride" in reference to its smoothness, it's based on what you'd find in the Phantom but with larger air struts with greater volume, and stronger drive and prop shafts.
Rolls-Royce uses a combination of body and wheel acceleration, steering input, and cameras built into the SUV to adjust the suspension settings. There's also a new double-wishbone front axle and 5-link rear axle; Cullinan can physically push down any of its wheels losing traction, by extending each individual air strut. Finally, there's four-wheel steering.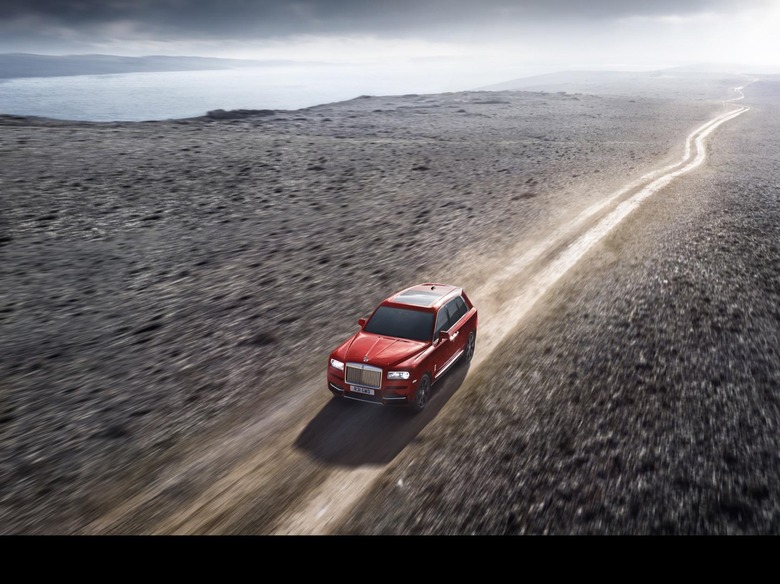 It's paired with Rolls-Royce's new 6.75-liter twin-turbo V12 engine, which has been reworked to deliver lashings of torque at low engine speeds. In fact, you get the full 627 lb-ft at an astonishing 1,600 rpm. The peak 563 horsepower arrives at 5,000 rpm. Despite that, Rolls-Royce says it expects Cullinan to get almost 19 mpg on the US combined cycle. Top speed is an electronically-governed 155 mph.
The automaker is keen to underscore that this isn't just a jacked-up Phantom: it's a legitimate off-roader. Hit the "Everywhere" button and Cullinan shifts into off-road mode, with a choice of terrain settings – including rough track, gravel, wet grass, mud, snow, or sand – while it can wade through over 21 inches of water.
A Phantom for the great outdoors
At first glance, the design parallels between Cullinan and Phantom are clear. Indeed, you could easily mistake the SUV for a stretched version of the sedan, though a closer look reveals it's actually very different in its core proportions. Rolls-Royce says that's an intentional push back against one of the trends in the growing SUV segment.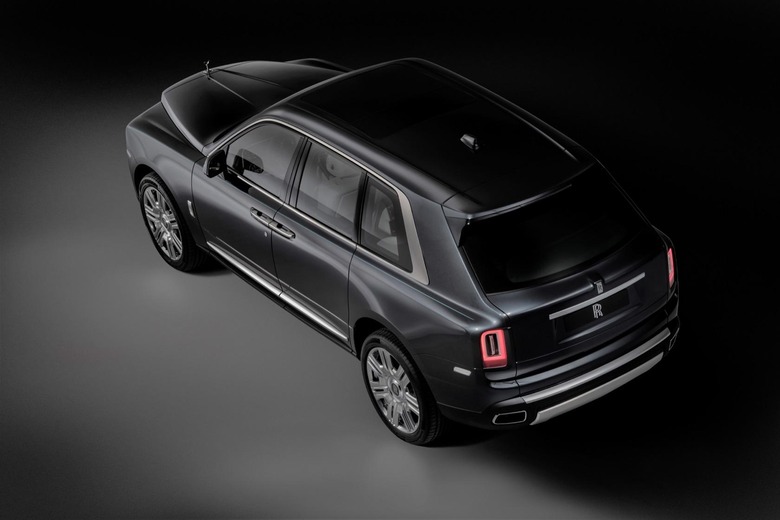 "The label SUV is now applied to anything with a two-box silhouette and the least suggestion of going off tarmac," Giles Taylor, Director of Design at Rolls-Royce Motor Cars argues. "We envisioned an authentic, three-box high-bodied all-terrain car with a convention-challenging design and absolute capability that would satisfy the adventurous urges of our clients."
That "three-box" strategy has an impact inside and out. At the rear, there's an opening tailgate – Rolls-Royce, loving any opportunity to give features a name, has dubbed it "The Clasp" – which powers open like a clamshell. The lower portion extends like the bustle of a classic dress, giving hints of the days when luggage was strapped to the rear of cars. Inside, meanwhile, a glass partition separates the passenger cabin from the 21 cubic feet of cargo space, ensuring it's quieter for those being transported.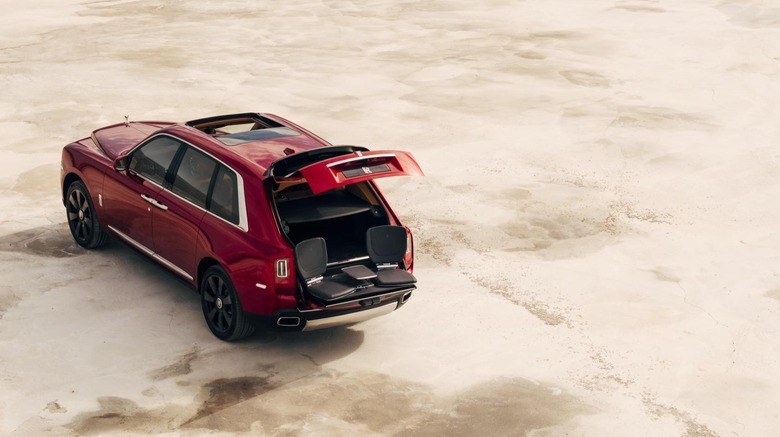 At the front, there's a restraint to the design that's at odds with what you'd expect from an ostentatious car. Cullinan, after all, is 17 feet 6 inches long, over 7 feet wide, and 6 feet tall. You'd forgive Rolls-Royce for feeling obliged to fill all that sheet metal with detailing.
Instead, it's as close to minimalistic as a super-luxury SUV costing six figures can get. The pantheon grille is hand-polished stainless steel and set slightly proud of the surrounding bodywork, flanked with simple but distinctive LED lights. Rolls-Royce describes the sides as having "an uncompromising sheerness" with the length of the hood, its center portion set noticeably higher than the wings to emphasize the scale.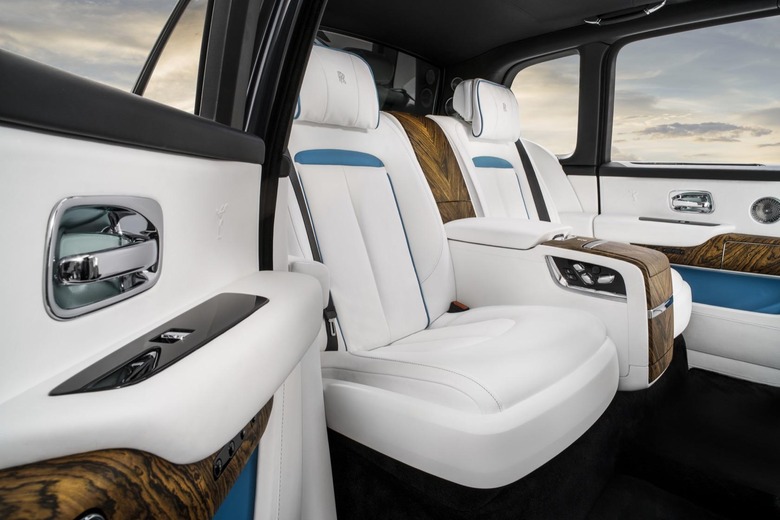 Further back, there's a sizable chunk of metal – the designers liken it to a Saxon spear – that extends down under the lower door surface. The rear lighting is as simplified as the front. Cullinan somehow manages to make 22-inch wheels look normal.
A cabin fit for an explorer
Most SUVs you'd grumble if you got mud inside, but dirtying up the Cullinan's cabin would seem positively sacrilegious. Again, simplified and structural horizontal and vertical elements carry through the design language, along with authentic materials like leather, wood, and metal.
The dashboard's center stack gets hand-finished metal pillars, while the upper fascia is leather wrapped. It's no ordinary hide, however. A newly-developed "Box Grain" black leather, similar to that used in high-end luggage and handbags, has been applied, chosen for its water resistance and greater durability.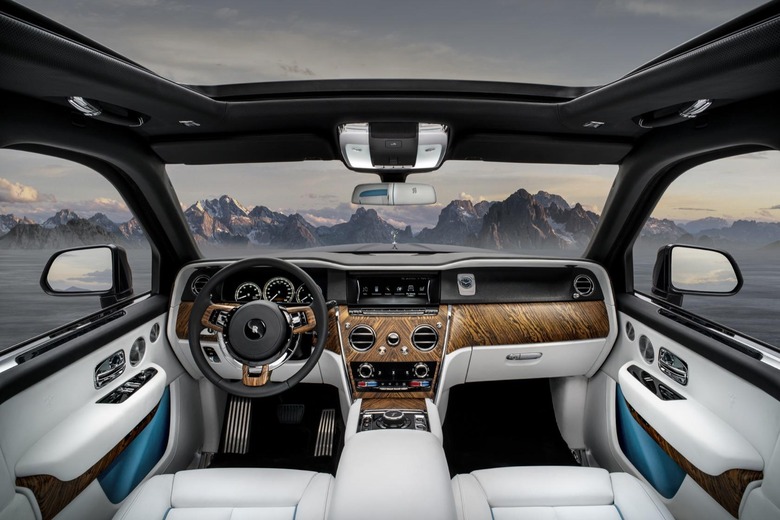 Underneath is a 3D sculpted band of wood, and there are leather pads top and bottom. The driver's instrumentation is now entirely digital, with virtual analog dials. The center display its now a touchscreen, another first for the automaker, though there's also a rotary controller in the center console, along with dedicated "Everywhere" off-road controls, the Hill Descent Control button, and the controls for the air suspension height.
The devil is in the detailing. Not only are the seats heated, but the steering wheel, front door armrests, front center console lid, the lower C-pillar, rear side armrests, and the rear center armrest. Rolls-Royce's leatherworkers have made the entire backrest panel of the seats from a single piece of hide.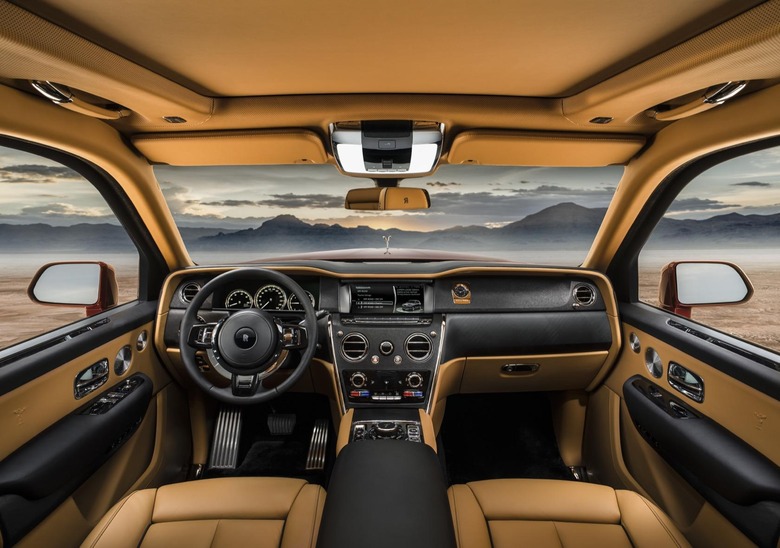 There's no shortage of tech you can have, too. You can have night vision and warnings for pedestrians and wildlife; a panoramic camera system with 360-degree bird's eye view; adaptive cruise control; lane departure warnings and cross-traffic warnings; and collision warnings. A 7x3 high-resolution head-up display is available, along with a WiFi hotspot. Five USB ports and wireless charging are available.
The Luxury of Convenience
You can't accuse Rolls-Royce of not sweating the small stuff. Unlock the SUV – either from the key or by reaching out to the stainless steel door handles – and Cullinan lowers by 1.57 inches while the coach doors power open. Those doors wrap deep around the lower sill of the car, intentionally keeping any dirt accumulated during your off-road adventure away from any point your trouser legs or skirt might come into contact with.
A door-close button is inside, power-shutting the front and rear doors. When the engine start button is pressed, the SUV rises back up to its usual ride height.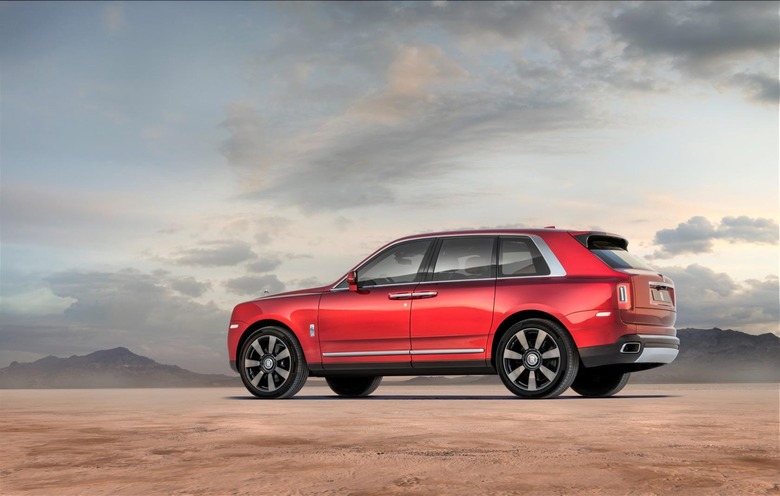 Rolls-Royce will offer Cullinan with two different rear seat configurations. The Lounge Seat is a bench for three which, in a first for the automaker, fold down flat with a 2/3-1/3 split. Of course, you're not expected to fold them yourself: there are buttons to do that in the trunk and rear door pocket. As they motor down, the headrest powers up and out of the way.
Unusually for an SUV, when flat the seat backs are still higher than the trunk floor. That, Rolls-Royce says, is to make sure anything in the trunk can't slide forward into the passenger cabin. However, hit another button and the floor rises to match the seat backs. Altogether, you get around 69 cubic feet of space with the rear seats down.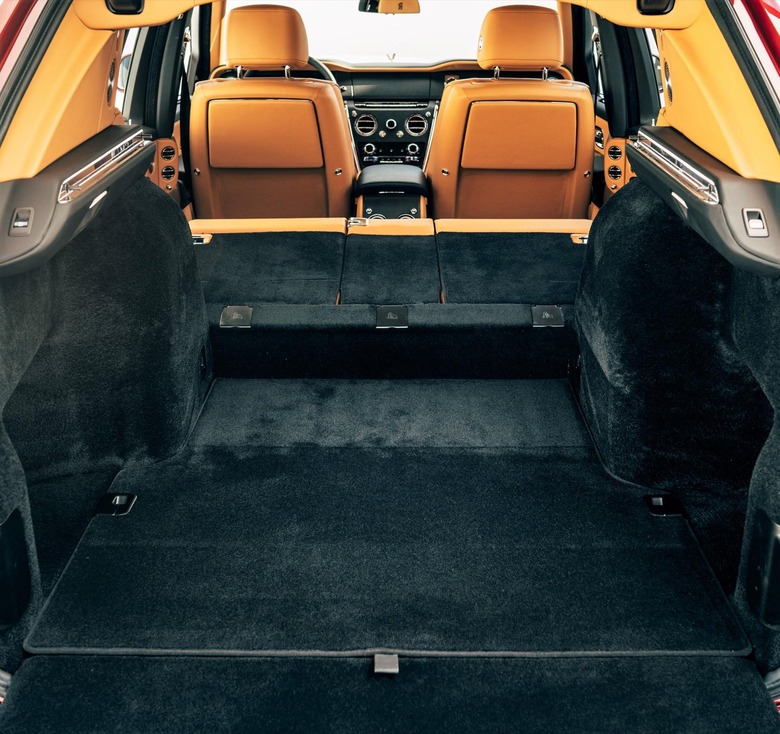 For those more focused on rear luxury than practicality, there's the Individual Seat configuration. Out goes the bench, replaced with two individual seats with power-adjustment separated by a fixed rear center console. That has a drinks cabinet with Rolls-Royce whiskey glasses and decanter, champagne flutes, and a refrigerator to keep your Bollinger cold. Whichever seating option you pick, those in the rear are elevated higher than the front for better visibility – Rolls-Royce calls it "Pavilion Seating" – and a panoramic glass roof is standard.
Let's get bespoke
Given the automaker's propensity toward custom projects, it's no surprise that the Cullinan has a few extras up its sleeve. Those wanting the classiest tailgate party around can opt for the Viewing Suite, a pair of leather seats that slide out of the trunk. However it's the Rolls-Royce Recreation Module that really puts the bespoke team to work.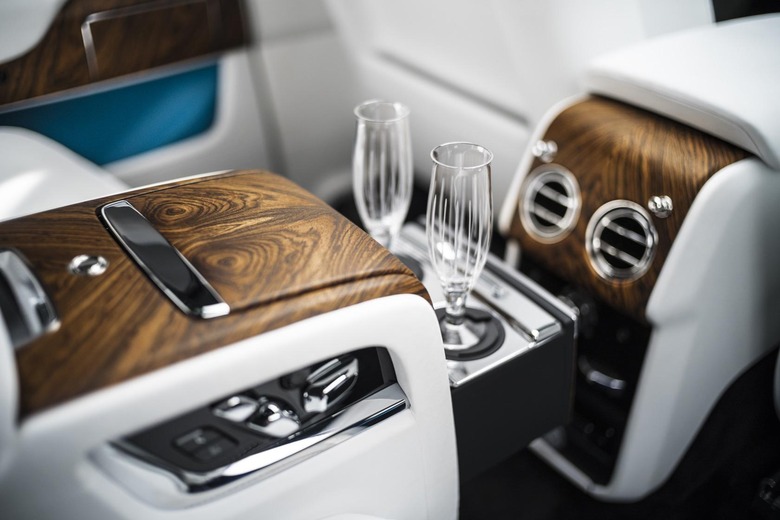 You can think of it as customized luggage for your particular hobby. Whether that's fly fishing, rock climbing, BASE jumping or – in one of Rolls-Royce's more unusual suggestions – volcano boarding, the company will design a special module to suit. Each has a motorized drawer that glides open to present its contents.
They're interchangeable, too, so that you can remove, say, the skiing module and replace it with a drone racing module instead.
A brand extending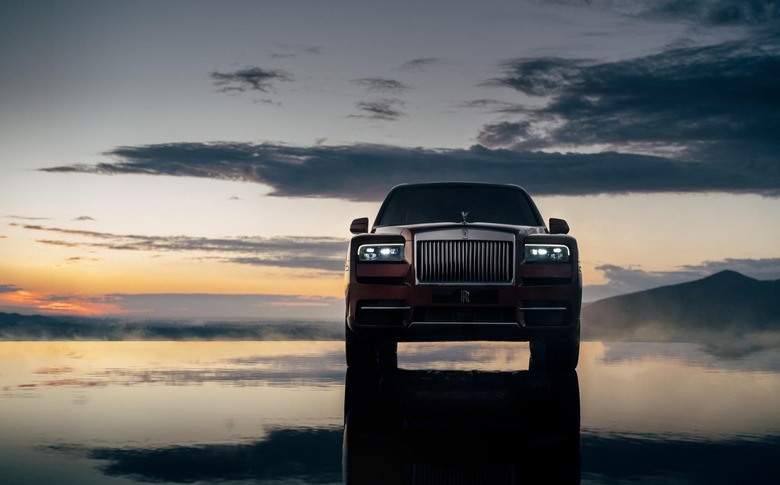 It's hard to imagine Rolls-Royce struggling to find buyers. The US remains its biggest market, with over a third of its more than 3,200 sales in 2017 there. China may well catch up, mind: 2017 sales rose 40-percent. Each has shown a strong appetite for both luxury and SUVs.
Rolls-Royce says it expects Cullinan buyers to be "younger, stylish, and more progressive" than its existing customers. They'll have to be fiendishly wealthy too, unsurprisingly. Base pricing is from $325,000, though the automaker tells us it expects vehicles to come in around $400,000 with options on average. Dealerships have already begun taking deposits, with the first deliveries likely to arrive before the end of this year.