Roland SPD-SX Percussion Sampling Pad shipping this week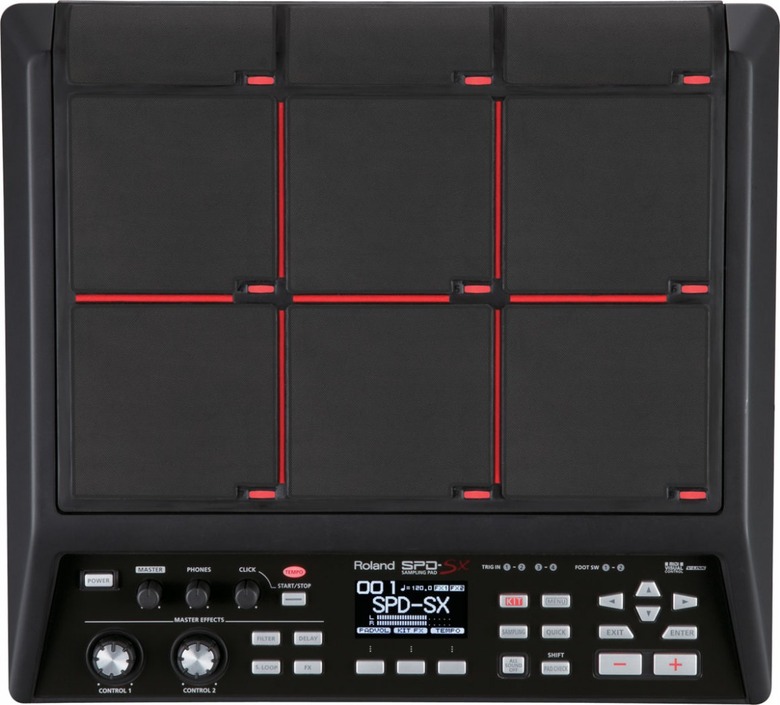 When it comes to sampling percussion instrumentation for your hot beats, you've got more than a few options – Roland just made your decision easy for you with the brand new SPD-SX, a sampling pad which appears to not be holding back when it comes to versatility. What you've got here is 2 GB of onboard sampling memory, three effects engines, and a set of controls which make this unit a real replacement to the popular SPD-S, what Roland up until now called their "industry-leading" sampling pad. Inside you'll find top of the line pad-sensing technology, assignable click output and a wholly portable chassis. Is this your next thumptastic solution for the rhythm in your life?
You've of course got a stereo mic/line input, but you've also got USB mass storage, USB MIDI/Audio, and USB memory to keep you hooked up to your computer interface. DC in, MIDI in and out, and so many ports you wont know what to do with yourself. You've got nine velocity-sensitive rubber pads on the top for tapping and two external dual-trigger inputs for expansion of your taps. Your effects are controlled by four dedicated buttons as well as two real-time control knobs, and the whole device is perfect for dancing in the dark as its all backlit.

This is what the pros use, ladies and gentlemen. Smack it with your drumstick, tap it with your tips, go nuts with the sweetness. The whole thing weighs in at 5 pounds 9 ounces (otherwise known as 2.5 kg) and sizes in at 364 x 331 x 94 mm. That's about the size of a record album and a half stacked up to about 15 or so albums. You'll be able to grab software for Windows Vista/XP/7 or Mac OS X 10.6/.5/.4 if you wish for the USB drivers and the Wave Manager (unless you want some 3rd party software, of course), and the whole setup will cost you a cool $990.00 USD and is available now.