Roku gets Dropbox channel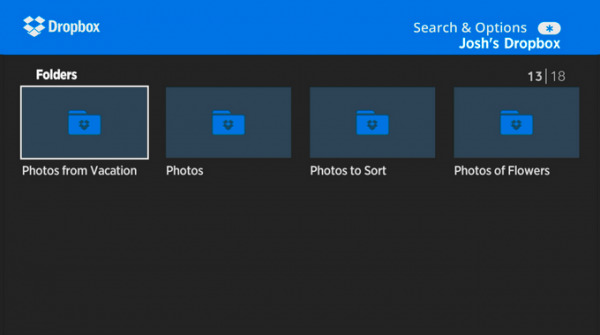 We're not sure why you'd want to, but it is now possible to access your Dropbox account on your TV through your Roku. The most obvious use for this is pulling up photos to show off on the big screen, though you could also pull up those (short only) vacation videos. The Dropbox Channel is now available on the Roku channel store for those with the maker's set top boxes, streaming stick, and smart TVs. It is listed specifically as a "Photo App".
The new app has a fairly basic interface, one that will be familiar if you've used other Roku apps in the past — there's the iconic Dropbox blue color shrouding a darker background. Folders feature the Dropbox logo and, when selected, open to whatever content you've shoveled into them.
You can get the channel the same way you get any other one; either pull up the channel store on Roku's website and click "Add channel" (you'll need to log into your Roku account), and it'll be installed onto your device. Or, alternatively, search for it via your Roku and add it that way.
This is the latest addition to Roku's channel store, with the other recent arrivals being more notable — or, at least, more entertainment-centric. There's the Comedy Central channel's arrival, for example, which brings a bunch of the network's content, particularly for those with an applicable cable subscription. Check out the timeline below for other recent news!
SOURCE: Roku