Roku announces 4K streaming with new TCL televisions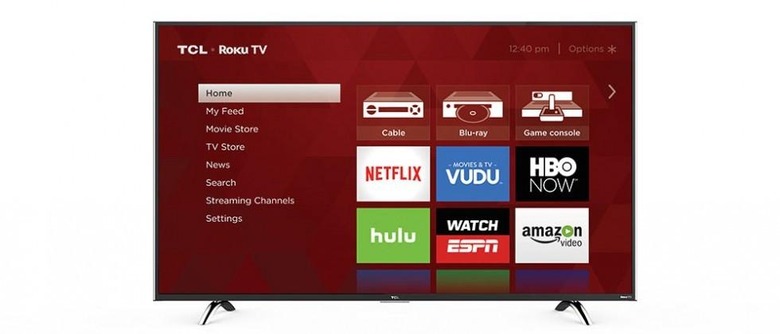 When it comes to streaming video and entertainment, Roku has been competing in set-top box market for some time now, but it's also making progress on adopting the strategy of Netflix and Amazon Video by having its service baked into televisions directly as an app. While the latest Roku 4 box introduced support for 4K content, the company has announced at CES 2016 that it's introducing 4K Roku TV built into new televisions from TCL this year.
Roku TV will essentially act as an OS for certain TCL displays, and because there's 4K support, it eliminates the need for the box. Along with Roku's own 4K Spotlight Channel, there will be the typical streaming video apps from the Roku 4, such as Netflix, Amazon, YouTube, and more.
There are said to be two models of television from TCL that will feature 4K Roku TV, each in a variety of screen sizes, however exact details on the hardware specs, along with pricing and a release date are still unannounced.
But while 4K TVs are rapidly becoming the standard, Roku is also betting on the next "big thing" in television tech: HDR TV. The company has said it's releasing a reference design for television makers to use the Roku platform with HDR services like Dolby Vision and HDR10 content. TCL is expected to be the first partner to take advantage of the tech.
VIA Wired