Roku 4 is now official: 4 is for 4K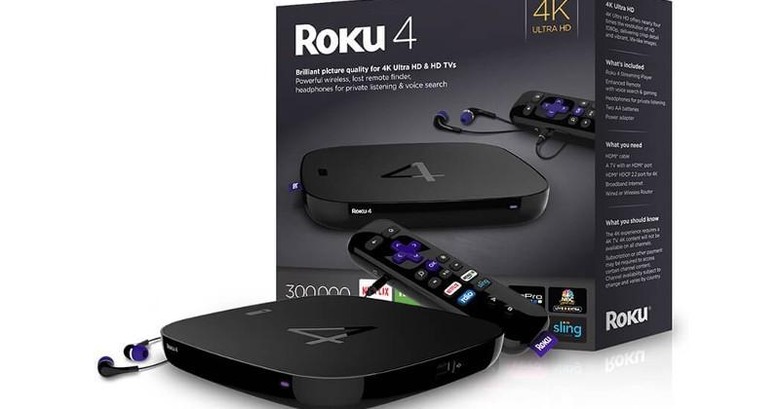 With Apple's new Apple TV, the pressure is on long-time players in the set-top box market to start gearing up for tougher competition. One of the oldest in the field is Roku, who is now revealing its play with the new Roku 4 player. As leaked before, the box, which is now really more of a box than a palm-sized trinket, does support 4K video playback. However, that is not the only trick that this new dog knows, a set that includes an upgrade to the Roku OS software as well.
Faster, better, but also bigger. That seems to be the theme around the Roku 4. In addition to 4K resolution, the new device boasts of a faster quad-core processor, faster network speeds thanks to Wi-Fi 802.11ac, and better integration with sound systems via a dedicated optical audio port. All this power, however, comes at a price, literally and figuratively. The Roku 4 is noticeably larger than its predecessor, which is necessary to accommodate new hardware and presumably new cooling systems as well.
The launch of the Roku 4 also ushers in the new iteration of Roku OS, now at version 7, which drives Roku's boxes and sticks. New to this version is a "follow" feature, which improves on Roku's previously announced "My Feed". This new feature delivers alerts and notifications when something you're interested in either becomes available or gets a discounted price. These notifications can extend to the iOS and Android mobile apps, reassuring Roku users that they won't miss out on that flash sale just because they're not near their Roku.
Roku throws in a few extra conveniences as well, some of which can be pretty amusing. For example, there is a dedicated button on the Roku 4 which helps locate the Roku Remote, which has barely changed at all. A new connection mode is also available when you're using a Roku in a hotel or dorm, letting you breeze through the setup process instead of starting from scratch each time.
The Roku 4 will be facing off against the other new kids on the block, like the new Amazon Fire TV, the new Apple TV, and the new Chromecast. But at $129.99, it easily becomes the second most expensive among the four. Roku, however, might also find itself a bit outgunned when it comes to gaming content, which it sorely lacks. That said, Roku is confident that its thousands of channels is enough to keep core audience, mostly comprised of video and audio consumers, from flying to the competition. The Roku 4 is now available for pre-order, with shipping set to take place sometime this month. The Roku OS 7 update will also roll out out to current gen devices mid-October