Rogers Wireless Acer Liquid E Review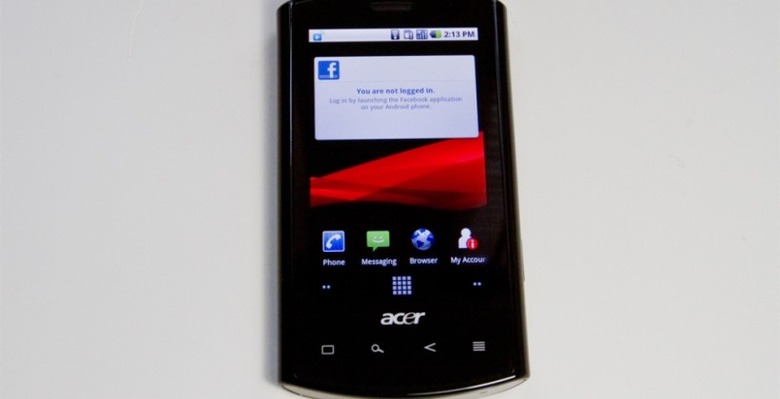 Your eyes do not deceive you; the Liquid E looks identical to the original Acer Liquid, the company's first attempt at an Android smartphone. That's because the key change is on the inside: the underclocked Snapdragon processor – running at 768MHz rather than the more usual 1GHz – now gets to play with Android 2.1 rather than the 1.6 of its predecessor. The first Liquid never really managed to lift its head above the rest of the smartphone crowd; will the Rogers Wireless Acer Liquid E fare better? Check out the full SlashGear review after the cut.
The OS may be different, but otherwise much of the Liquid E we've seen before. You still get is a 3.5-inch WVGA capacitive touchscreen, 5-megapixel autofocus camera (though lacking an LED flash), quadband GSM and triband 900/1900/2100 UMTS/HSPA. There's also WiFi b/g, Bluetooth 2.0 and an FM radio, along with a microSD card slot, 3.5mm headphone socket and A-GPS.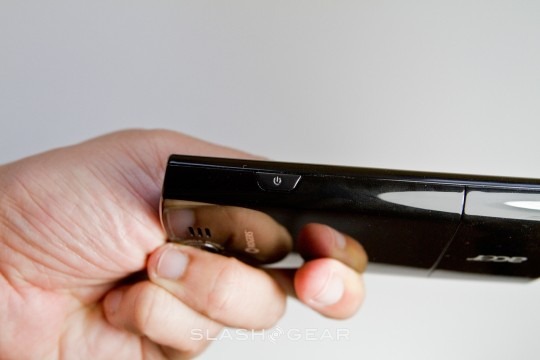 At 4.53 x 2.46 x 0.49 inches it's not the slimmest Android phone, and there are a few creaks if you squeeze the plastic casing too hard, but generally build quality feels reasonable and it's surprisingly lightweight. The touch-sensitive keys underneath the display are responsive, while the power, volume and camera keys are tactile; we wish Acer hadn't hidden their USB 2.0 port under an annoying little flap, however. Oft-overlooked but brilliant are the hidden LED icons integrated into the top edge of the Liquid E, which allow you to peer at the phone in your pocket and see whether you have new messages.
Despite the underclocked processor the Liquid E is reasonably swift in its navigation, helped no doubt by being a pretty much stock build of Android 2.1. That means you get the regular Android widgets and Live Wallpapers, but no complex widgets like HTC Sense or Motorola MOTOBLUR might offer. On the flip side, should Acer decide to publicly commit to an Android 2.2 Froyo upgrade, that should be a quick process; we've already seen unofficial Froyo ROMs for the phone.
Acer Liquid E hands-on:
[vms f22df63d3344ad89919c]
Acer's few personalisations basically amount to some preloaded software, itself of varying use. A custom Acer Settings page offers shortcuts to toggling wireless – 3G, WiFi, GPS, etc – and adjusting ringtones and backlighting, while there's a JavaME app allowing you to play downloaded Java apps like mini-games. More useful are Documents To Go and RoadSync, for opening and editing Office files and for integrating with an Exchange server respectively. The latter is particularly handy; although Android 2.1 brought better Exchange support than previous versions, it still lacked niceties like server searches, calendar sync and peak/off-peak push-email scheduling.
Lurking at the very edges of the multi-pane homescreen is Acer's wheel-like Acer Sync app, which offers internet bookmarks on one end and music/photo/video catalogs at the other. There's also Acer Task, a very basic task management that lacks synchronisation support (though you can import task lists), and Acer Media Server. The latter is part of Acer's new push to interlink their various product lines and make sharing multimedia between different devices more straightforward. You can select either all media, select folders, artists or albums, or only content taken with the Liquid E's camera, and make them accessible via WiFi to any DLNA-compliant media player. It works well, and if you've a DLNA-capable TV it's a quick way to show off your latest snaps.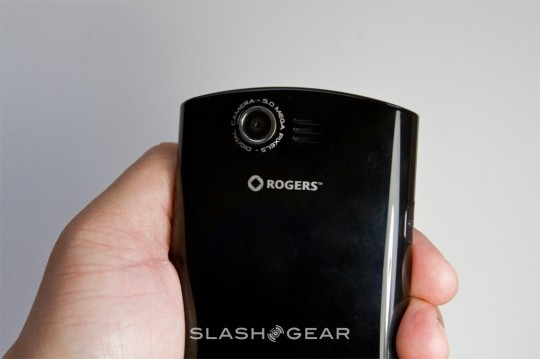 The quality of those snaps varies depending on the lighting conditions, and without an LED flash – which, to be fair, often aren't much cop either – you'll want to look elsewhere if low-light photography is your priority. Images can be on the oversaturated side, and look a little over-sharpened at times. What's significantly improved is the camera's speed: unlike the laggy first-gen version of the phone, the Liquid E's autofocus snaps in quickly, and photos are saved shortly after. We don't know if that's down to Google's updated OS or something Acer themselves have done, but either way we're pleased. That autofocus speed carries over into the camcorder function, though with resolution maxing out at 640 x 480 VGA the Liquid E falls well short of the 720p HD recording we're seeing on rival devices. Image quality is on the gritty side, especially when played – via Media Server – on a bigger display.
Otherwise, this is Android 2.1 as it comes, which means you get Google's regular Gmail, Google Maps (with turn-by-turn Navigation functionality) and YouTube apps, along with the Webkit-based browser. The latter supports multitouch pinch-zooming but not Flash or even Flash Lite. Still, pages render swiftly and pan with little lag or judder. The Android Market lacks the bulk of Apple's App Store, but there are some gems to be found.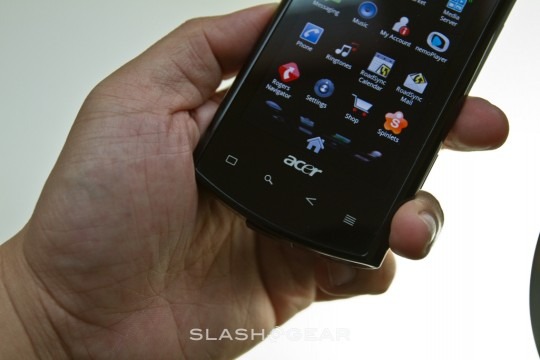 Acer's justification for underclocking the CPU was to ensure healthy battery life, and we've been reasonably impressed by the Liquid E's longevity. Quoted runtimes are up to 5hrs of talktime or 400hrs of standby, and we managed to get through a full day of normal use (with push email turned on) between charges. Call quality is decent, with the speakerphone sounding crisp if lacking a little in top-end loudness.
In comparison to devices like the EVO 4G, the Nexus One and other high-end Android smartphones, the Acer Liquid E feels a little underwhelming. Still, it's priced to move: $49.99 on a new Rogers Wireless contract (albeit with a lengthy three year agreement). That budget pricing goes a long way in offsetting any criticisms; all we need now is a public commitment from Acer to push out updated Android OS versions in a timely manner.
Update: Acer have been in contact to say that they do indeed plan to release an update to Android 2.2 "before the end of the year".