Rock Band VR hands-on: Pre-order bundle released
This week the Virtual Reality version of Rock Band has been released on pre-order for the masses. This game is coming with its own Fender Stratocaster wireless controller for Xbox One or PS4 in a single package. The game as we played it earlier this year was an interesting translation of the classic Rock Band experience into a fully encapsulating environment the likes of which have not been possible up until now.
Gamers will dropped unto the stage with their full band alongside them – or behind them, or in front of them. Several spots for playing are available for the discerning musician. Once onstage, the music begins – we were asked to rock immediately, holding a guitar which appeared in the game as fully operational and in real time.
The Fender Stratocaster wireless guitar controller works in concert with the Oculus Touch and the included connector device. Other compatible Rock Band 4 guitar controllers can be used as well. For those that already own Oculus Touch – that's the controller donut sort of device that says Rock Band on it already.
The video you're about to see comes from the folks who make the game. It makes the guy playing the game look like a nincompoop. Rest assured that people playing the game will look like this from the outside, but will not feel like such a goofball from the inside. Inside you'll see something a lot more like the image you're seeing above.
This game allows for a bit more creative freedom when it comes to styling one's own execution of notes. As the creators of this game suggest, "classic Rock Band simulates the note-for-note experience of a studio recording, [while] Rock Band VR lets you feel like you're actually performing in front of sold-out crowds." It's a bit more complicated than that – but that's basically it.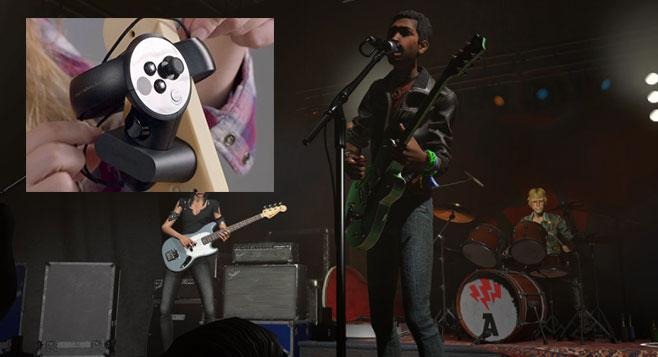 The user sees the guitar look like it feels, but the crowd feels a lot more real. They don't look like real people, but the feel like they're really there, reacting to the way the music is being played. And they really are – reactions are much more visceral here than in previous games. As such, the satisfaction felt from winning at the game is amplified.
Rock Band VR has been announced to launch for Oculus Rift on the 23rd of March, 2017. Both the Xbox One and the PS4 Guitar Controller bundle are available for pre-order now for $70 (with the game). The PS4 version works with Oculus Rift on PC and PS4's Rock Band 4 (sold separately). The Xbox One version works with Oculus Rift on PC and Xbox One's Rock Band 4 (also sold separately).