ROCCAT RYOS MK mechanical gaming keyboard released with built-in processor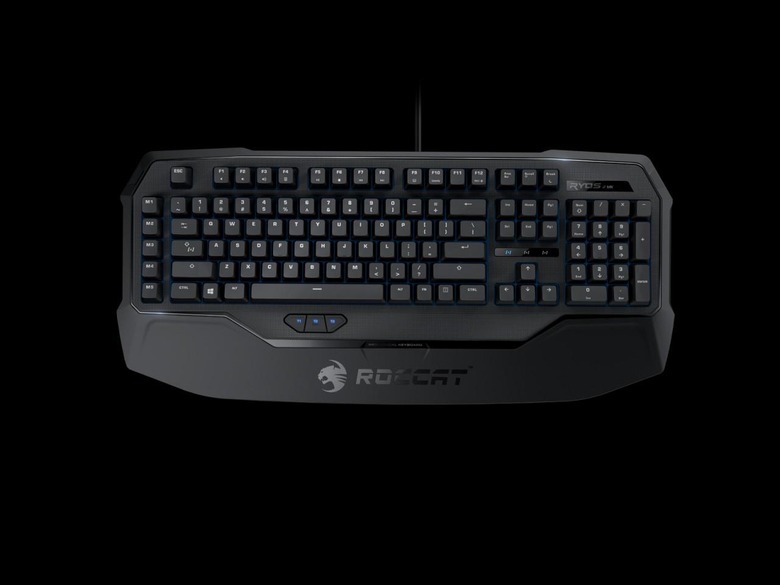 The folks at ROCCAT have revealed release information at last for the keyboards it showed off earlier this year at CES 2013. Three models appear in this series, each of them with a "top of the line" quality – as marked by ROCCAT, of course, for the whole collection. There's a standard RYOS MK, another with full backlighting with the name RYOS MK GLOW, and a biggest-and-best model called RYOS MK PRO with all of the features of the other models paired with per-key lighting and its very own SDK for software development.
Each of these machines work with their own built-in 32bit ARM Cortex processor, the first two working with a single core, the PRO working with dual-core processing. Each unit has 2MB flash memory, an N-Key rollover, Cherry MK Key -Switches, and ROCCAT Easy Shift for complete remapping of the keyboard. ROCCAT Talk is supported with each model.
Both the ROCCAT Ryos MK and the Ryos MK Glow are available at retailers now, with the former being priced at $99.99 USD and the latter at $139.99 USD. The ROCCAT Ryos MK Pro — the flagship of the bunch — will take a bit longer to arrive, not set to hit shelves until the middle of next month (specific date not provided). When it arrives, it'll come with a $169.99 USD price tag.
Said ROCCAT's Founder and CEO Rene Korte: "PC gamers all over the world have been wishing for ROCCAT to come up with a mechanical keyboard — and finally here it is. Congratulations to everyone who has been waiting patiently, you are now able to get the most advanced mechanical keyboard on the market."