ROCCAT Ryos leads CES 2013 gaming charge with mechanical keyboard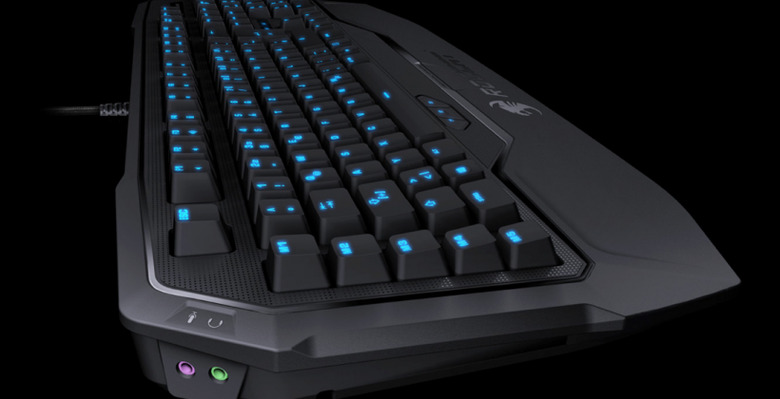 The folks at ROCCAT are bringing on the heat with their first-ever mechanical gaming keyboard set for CES 2013, this just the first of a collection of fabulous new devices they'll be blasting out in the next week. The Ryos is "defining a new standard for mechanical gaming keyboards", so they say, while the ROCCAT Power-Grid is a bit of software aimed at your smartphone – and app that'll be hitting the airwaves soon with customized controls for your favorite games on your PC.
With the Ryos, ROCCAT brings on a distinct light for each key – you could potentially do a fabulously fashionable rainbow with your keys, each of them lighting up differently! This keyboard works with up to two 32-bit ARM cortex processor and is able to display key functions as well as macros, or health bars, or basically whatever your heart desires, all thanks to the ARM living inside. You get 2MB of internal Flash storage and you can pick one of four different CHERRY MX key switches, black brown, red, or blue!
Then comes the official getting over the Beta hump for the ROCCAT Power-Grid app, a beast that allows custom settings and connections between your smartphone and your PC. You'll be able to work with Windows controls, Skype, your Media Player, and more, right out of the box. You've got pre-set controls for Starcraft 2, Skyrim, and League of Legends, and "Strike Suite Zero". This app allows live updates of a game's statistics as its connected wirelessly and is, of course, connected straight to a number of gaming websites that hold gaming news galore.
ROCCAT is also bringing on a number of gaming mice like the Kone XTD and Kone Pure as well as the gaming keyboard ROCCAT Isku FX. These devices will all be shown off at CES 2013 – catch SlashGear all week long, starting right this minute!