Robotic Exoskeleton Helps Paraplegic Student Walk

We love robots here at SlashGear, especially when they can help people do things they wouldn't normally be able to do. This weekend, a paralyzed student at UC Berkeley was able to walk across the stage to receive his diploma thanks to a metal robotic exoskeleton developed at Berkeley. It was an exciting moment for the student, and for the researchers who have been working on this technology for over a decade.
The exoskeleton, which is a controllable leg brace, was developed by Homayoon Kazerooni, a professor of Mechanical Engineering at Berkeley, and his team of researchers. Austin Whitney, the student who got to demonstrate and use the exoskeleton on stage at graduation, was able to press a button and stand up, and then move his legs with the exoskeleton. He also used a walker to balance as he moved across the stage. It was a very exciting moment for him: "The second I pressed the button and stood up, I was flooded with a series of emotions," Whitney told UC Berkeley's media office. "It was overpowering...I've stood in the [exoskeleton] machine a lot of times before, but I knew that it would be different up here [on stage], and it truly was."
In 2000, DARPA funded Kazerooni's research to investigate ways to help soldiers carry heavy loads for longer periods of time. That military-focused exoskeleton was unveiled in 2004. Dr. Kazerooni described it this way: "We set out to create an exoskeleton that combines a human control system with robotic muscle. We've designed this system to be ergonomic, highly maneuverable and technically robust so the wearer can walk, squat, bend and swing from side to side without noticeable reductions in agility. The human pilot can also step over and under obstructions while carrying equipment and supplies."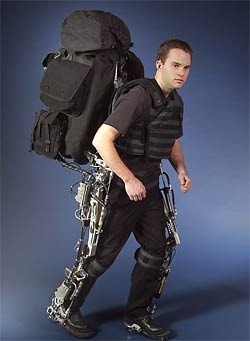 In 2010, the research team had come up with eLegs, which is an exoskeleton designed to help paraplegics walk. Whitney said that he hopes "today's success will provide hope to other paraplegics that in their lifetime, they will see affordable machines that can help them regain some of their mobility." Dr. Kazerooni also wanted to let people know that this technology is out there, and that he is not anywhere near finished. "This technology can be accessible to a large number of people, and that is our mission," said Kazerooni. "We're telling the community that this is possible. This is just the beginning of our work." We can't wait to see what is coming next.
[via UC Berkeley News Center]