There's a robot out there in the wild made by UBTECH that's aiming to ramp up female interest in STEM research. While the idea is questionable that the color purple and a fanciful unicorn form will entice girls any more than any other sort of robot, the robot itself remains pretty neat. The full product name is "JIMU Robot Mythical Series: UnicornBot Kit" and it's basically just hit stores this morning.
The robot comes in pieces – using an attachment system similar to (but not exactly the same as) LEGO to assemble. This product uses both unpowered and powered (electric) parts to promote construction and programming. Programming is done with a simple-to-learn app for Android or iOS.
This robot recognizes color. It has a color sensor that recognizes up to eight different colors, and can be programmed with its associated app to initiate actions based on the colors it's seen. There's an LED horn up top of this unicorn too. The colorful horn shines different colors in response to certain stimuli – also programmed and/or preprogrammed in the unicorn's associated app.
This unicorn's neck moves its head up and down and its front feet have tiny wheels to move around. The bot moves with two "smooth-motion robotic servo motors" as well as a "powerful DC motor" and a rear end that moves left and right dependent on commands.
"Kids gravitate to STEM toys because technology makes learning feel fun and empowering without being forced," said John Rhee, senior vice president and general manager, North America, UBTECH.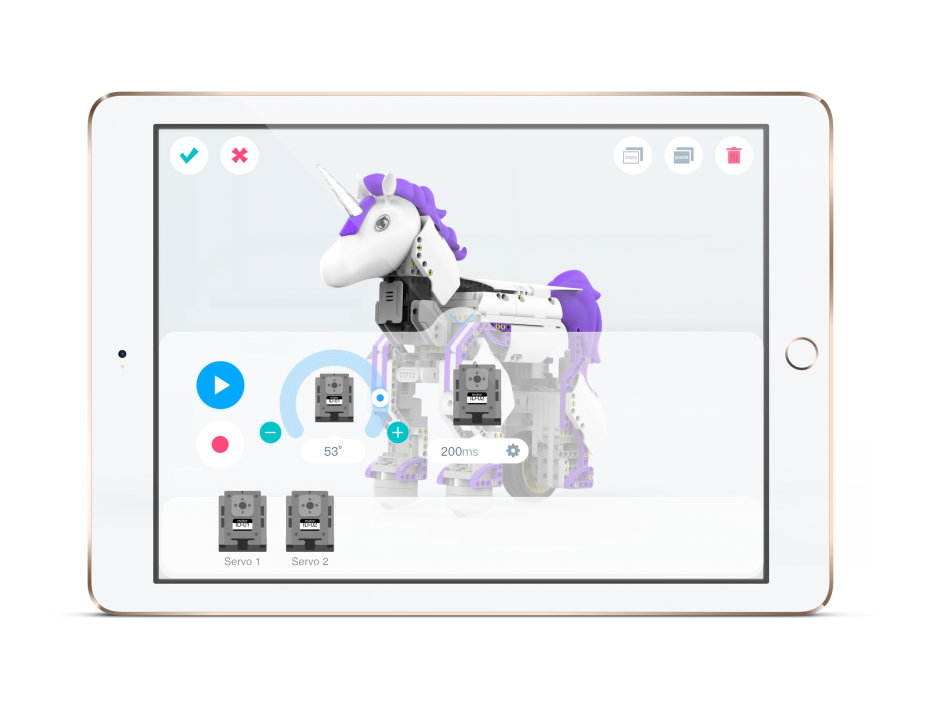 "Likewise, kids are drawn to unicorns for their sense of enchantment and power," said Rhee. "By introducing UnicornBot as the first JIMU Robot in our new Mythical Series, we want to expand the audience for STEM toys by tapping into one of the most popular themes on the toy market today, while shattering preconceptions of what a STEM toy is and who should benefit from early exposure to STEM concepts."
NOTE: We're potentially getting this robotic unicorn robot in for review – let us know if you have any questions you want answered!
Potential owners of this next-level DIY robot will find it available at a bunch of retailers immediately if not soon. It'll be out at Target, Sam's Club, Apple Stores, Amazon dot com, and through Jimurobots dot com. The JIMU Robot Mythical Series: UnicornBot Kit will be made available for right around $120 USD right out the gate.