Road S101 HandyPC gets Android: Video Demo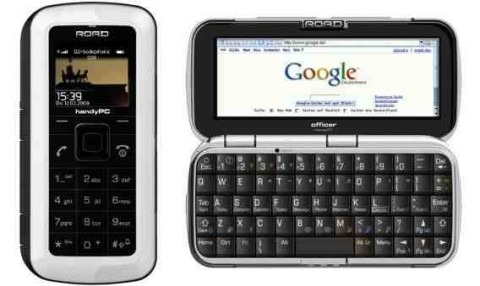 It's been a long, long time since we first saw the Road S101 HandyPC – all the way back in August 2006, no less – but the S101 is back at CeBIT 2009.  Ostensibly a Nokia Communicator lookalike, only with a 640 x 240 touchscreen, the S101 HandyPC has thankfully had a slight spec boost from its original configuration.  Even more interesting, Road have tried switching out the standard Linux OS and Qtopia GUI for Google's open-source Android platform.
Video overview of Road's S101 HandyPC, plus the S101 running Android, after the cut
Hands-on reports with the HandyPC suggest it has a very usable keyboard - it certainly looks like Road did their level best to squeeze the largest keys possible into the chassis-space – but the limitation to 2.5G data connectivity is still unforgivable.  In fact Road seem to have fallen behind completely on the wireless specs: not only does the S101 HandyPC top out at EDGE, it also has mere WiFi b.
As for the Android implementation, while the demo unit had no connectivity the OS seemed to run well.  It sounds like Road are actually considering switching over to the Google platform prior to the S101's launch.
Road S101 HandyPC overview:
Road S101 running Android:
[via UMPC Portal and via jkkmobile]
Road S101 HandyPC specs:
Processor Marvell PXA270 at 512MHz

Memory 128MB RAM and 512MB Flash

Battery 1800mAh Lithium-Polymer

Linux kernel 2.6.x with graphical user interface Qtopia

Phone

- Display: color 128×160

- Keyboard: 21-key standard-phone

- Audio: microfone and receiver/speaker

- Alarm: acustical/optical/vibration

PC

- Display: TFT color 640×240 with touchscreen

- Keyboard: 63-key PC-compatible

Multimedia

- 4 external keys for control

Camera 1,3 Megapixel (optional)

Battery Life: Phone: 4h active, 7 days standby

Battery life: PC: 5h active, 30 days standby (phone off)

Wireless Connectivity

- GSM Triband (900, 1800, 1900 MHz) with EDGE/GPRS Class 12

- WiFi 802.11b

- Bluetooth 2.0 EDR, class 2 (30m)

Hardwired Connectivity

- USB 2.0 OTG Microjack AB (Host/Client), incl. charging

- SD-card 2GB (+SDHC compatible) and SDIO

- headset or stereo headphone