Rising profits as robo-surgeons cut deeper into heathcare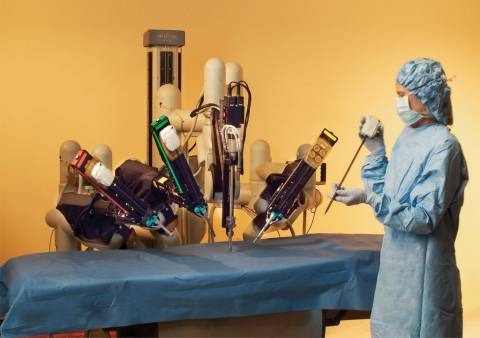 Sweet bajesus, that thing sure looks evil.  In fact, I'm pretty certain I saw it try to kill James Bond at one point.  Intuitive Surgical would have us believe that it's the da Vinci Surgical System, a remote 3D operating system with multiple arms and poseable endoscope for those extreme-closeups.
Apparently I'm the only one scared by it, however, as forth-quarter revenue for Intuitive has risen 56-percent, bolstered not only by sales of the da Vinci system but also in recurring supplies and services for machines already in use. 
Intuitive broke down their revenue as so: 
Systems sales: $206 million
Instruments/accessories: $112 million
Service/Training: $ 55 million
Total: $373 million
It's a sign that robotically-facilitated surgery is moving further into the mainstream, as faith in telepresencing and the precision and reliability of electronics and hardware grows in a profession used to demanding extremes of safety.  Sadly, though, I don't think we'll be able to get an Aesop voice-controlled Endoscope Positioner in to review.