Riptide R1 Black electric skateboard gets serious about carving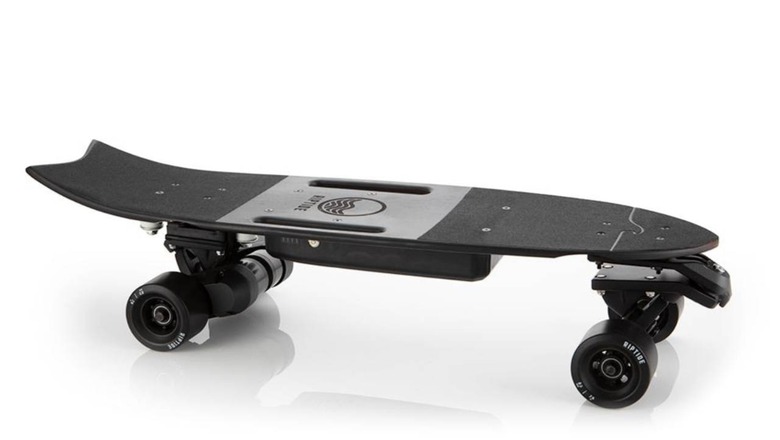 Riptide has a new electric skateboard, the Riptide R1 Black, and if you've always wanted your motorized 'board to go carving then this is probably the model for you. Based on Riptide's existing R1 design, the new Black version adds some special Surf and Rail adapters to introduce a huge degree of tilt.
Indeed, according to Riptide, the R1 Black (aka R1B) is capable of three times tighter turns than the standard trucks on the company's 'boards. Importantly, it apparently does so while still delivering a sense of stability.
"Speed wobbles are scary," Riptide points out. "Wobbles at 18 mph are even scarier. Well, after extensive testing we can say with confidence that the R1 Black has strong stability, even at high speed."
While the front Surf adapter is responsible for the carving, it's the Rail adapter at the back which delivers the stability. It's designed to keep the rear wheels in-line with the nose of the deck, even if the front truck is doing something different.
As with other R1 'boards you get two electric motors and a 3:1 gear ratio. Top speed is 18 mph, and it's controlled with a palm-sized wireless controller. That connects via Bluetooth, and offers three different modes – which can be switched while riding – for Beginner, Eco, and Expert.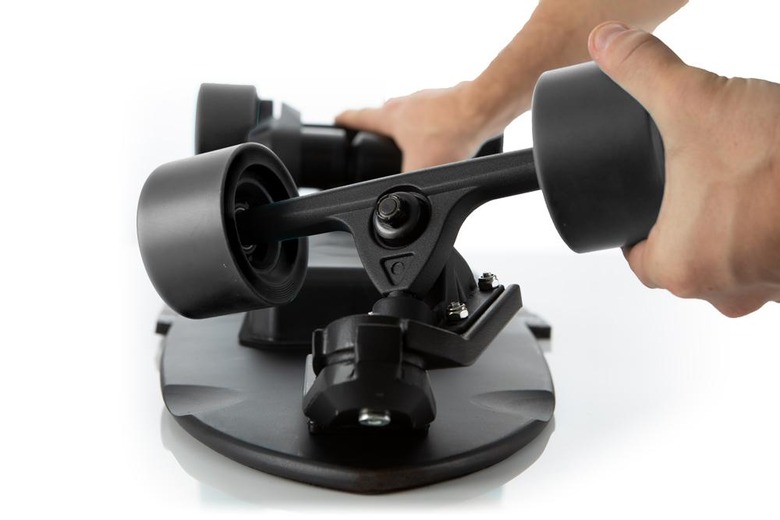 Riptide's standard battery is good for up to seven miles of riding on a charge, but with the optional RX battery that doubles to up to 14 miles. A full charge takes 3.5 hours with the standard charger.
The wheels are 83mm 78A and hard, an intentional choice for aiding with slides. There's an integrated kick tail and standard regenerative braking. Cut-outs in the 14 pound board act as carry-handles. The deck is made of Canadian maple, and then given a stark black finish.
Best of all, existing Riptide 'board owners can upgrade to match the R1 Black's functionality, even if they don't necessarily get the blacked-out look. The company is selling the Surf Truck and Rail Adapters separately, each made by Waterborne, as part of a Surf Truck adapter kit. That's priced at $125. It'll work with any existing. R1, R1E, or R1X model.
If you're new, meanwhile, the whole Riptide R1B will set you back $649 during the next seven days of preorders. After that, it'll be $749, with the black deck on its own priced at $79.