Ring Solar Panel for Stick Up Cam eliminates charging hassle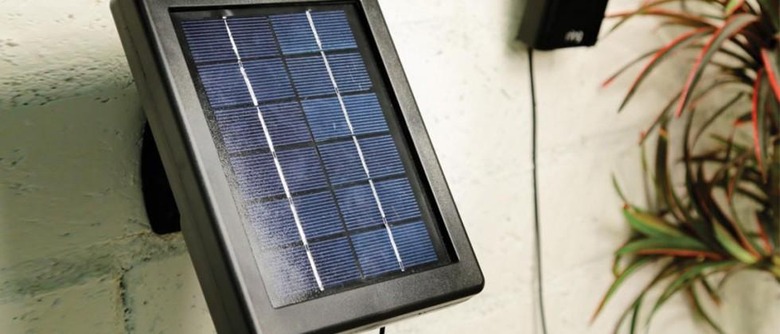 Ring, the company behind the Ring Stick Up Cam and Video Doorbell, has introduced the new Ring Solar Panel for powering the aforementioned camera. The solar panel serves an obvious purpose — it keeps the camera powered up, removing the need to manually recharge (assuming you get adequate levels of sunlight). The Ring Solar Panel is described as a self-install device, which can be put up within three minutes wherever your camera may be located.
As Ring pointed out in a statement today, the Stick Up Cam — a wireless outdoor security camera offering two-way audio — is usually mounted somewhere that isn't exactly easy to get to (no one puts their security camera in easy reach of potential thieves, of course). The battery-powered camera does need recharged from time to time, though, which is a hassle if the camera isn't easy to get to.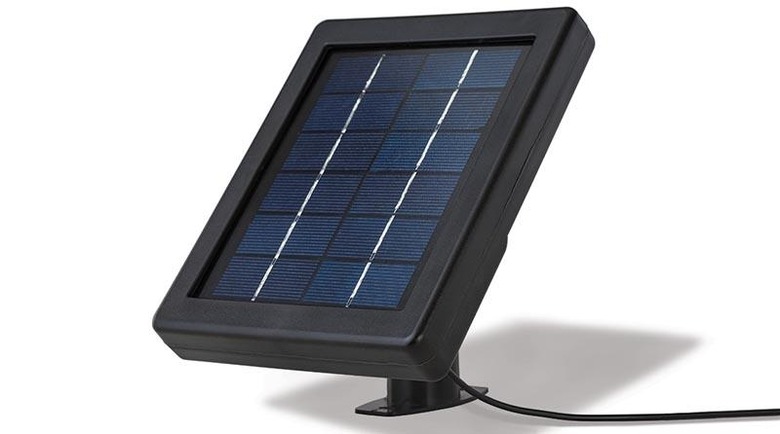 The Ring Solar Panel, then, eliminates the hassle — or reduces it — by keeping the camera juiced up courtesy of the sun. It will need to be mounted somewhere that it gets a few hours of direct sunlight everyday, otherwise it may not be able to fully sustain the camera's power needs. This could mean it'll do well in some places year-round, and only in the non-winter months elsewhere.
The solar panel measures 7 x 6 x 1.25-inches, and has a power rating of 6v, 0.3a, and 2w max. It connects directly to the Stick Up Cam over USB (a 10ft cable is included), and features an adjustable mounting bracket that can be set at various angles for a variety of mounting needs. The solar panel charger is weather resistant.
Those interested can pre-order the Ring Solar Panel now for $29 USD from Ring's website — this is a special preorder price, being 40% off the regular $49 USD price tag. Ring anticipates shipping the preorders the end of March.
For those unfamiliar with it, the Ring Stick Up Cam is a $199 USD security camera device that allows users to monitor a particular location, but also listen to the audio and talk back at whomever may be nearby. It works in conjunction with a mobile app that includes features like cloud video recording and motion detection alerts.
The Stick Up Cam includes a night vision mode for use at night, and records HD-resolution video. As with the solar panel, the camera mounts onto a surface via an adjustable mounting bracket.