RIM's BlackBerry 2 Slated for September 15 Launch on Telus?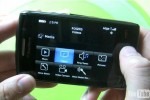 It's about time we made our way through the rumor mill, and it looks like we've got a good one for anyone who's a fan of BlackBerry, and especially the Storm. Well actually, if you wanted a Storm, hated the first, and were hoping that the second would be better, this might be in your neck of the woods, too. And yes, we've heard rumors like this before, and we've even seen the Storm 2 on video already, but nothing official has been released regarding its debut date. Well, chalk up another rumor for that September launch, ladies and gentlemen.
According to the rumors that were provided to Phone Arena, it looks like the BlackBerry Storm 2 (9550) is set to launch on September 15 over on Telus. As a refresher, the Storm 2 is promoting a better screen for typing on that SurePress keyboard/screen, as well as hefting along for the ride some WiFi goodness (which the first version was sorely lacking). And, if you're keeping tabs, then this means that it's been less than a year since the launch of the first Storm, which is probably either a good thing or a bad thing, depending on how you look at it.
As videos are showing, there's been an obvious improvement from the previous model to the upcoming version. When it comes to RIM and their BlackBerry phones, it's better late than never, and we're sure that a lot of people will be picking up the latest iteration. Will you be one of them?
[via Phone Arena]