RIM set to launch official keyboard accessory for PlayBook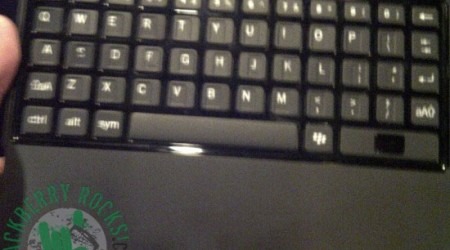 The Blackberry PlayBook has been around for a while now. The tablet hasn't received the most glowing reviews, but RIM is still plugging away on the device. A rumor surfaced not long ago that the PlayBook would get a 10-inch version in time for the holiday season that would bring a larger screen to the mix. You may have been surprised that the PlayBook didn't launch with an official keyboard accessory considering that RIM is trying to position the PlayBook as a content creation tool.
Some pics of the official keyboard have surfaced including the one above that was taken by Mr. Blurrycam. The keyboard appears to have nicely spaced keys with the shift key being a bit smallish, but in the right place. The tip that the official keyboard is on the way came directly from RIM's Bruce Winter, who is head of accessories at the firm. The rendered image of the keyboard with the tablet below came from some training materials.
The full details of the new keyboard are unknown right now. It has been said that the keyboard uses Bluetooth, which would make a lot of sense. The render and the prototype in the blurry pic lack a trackpad, but the product that comes to market will reportedly have a trackpad on the wrist rest right where we expect it. The keyboard is also said to work like a dock allowing the user to fold the works up and go when needed.
[via Netbooknews]