RIM Fiscal Q2 2013 brings on slightly less terrible results than last quarter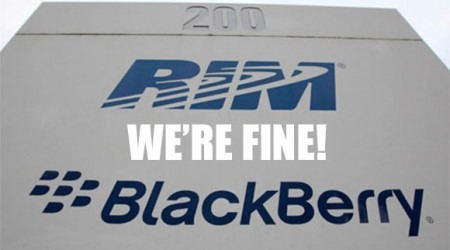 Compared to the earnings report in the quarter directly before this one, RIM is looking pretty good considering they've had a nat GAAP loss of $235 million USD on revenues of $2.9 billion. The quarter before this one we saw RIM with a net loss of $518 million on $2.8 billion in revenue – this is also the first time in the last three quarters that they've pushed their quarterly revenue upward instead of downward. This report comes after a particularly positive BlackBerry Jam session earlier this week which saw a boost in stock prices for the Canadian company.
The earnings we're seeing here has RIM reporting a loss of $0.45 per share diluted, which isn't fabulous, but is better than what was expected by some analysts. There's been a relatively positive user base growth according to CEO Thorsten Heins earlier this week, this tying in well with the report today letting the public known about 7.4 million more BlackBerry devices shipping this quarter alongside 130,000 PlayBooks. That's not quite as good as last quarter, but in that they've lost less this quarter than last, they must be doing something right, yes?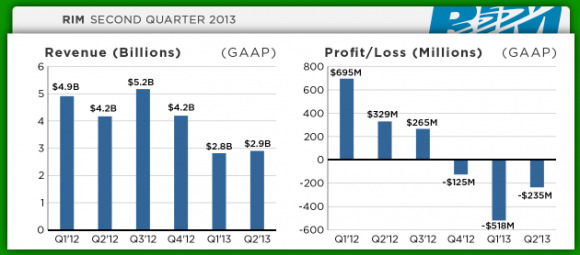 BlackBerry 10 is just around the quarter and RIM is certainly going to be hoping that their record losses in their fiscal Q1 2013 will never be repeated. You'll find that with a new software build coming out soon, BlackBerry users will likely stick around for the show rather than jumping ship after an extended period of similar-feeling builds on devices for quite a few months – and years, depending on how you look at the situation. RIM's BlackBerry 10 is a touch-friendly system that they company hopes will turn their fortunes around in a very big way.
You'll find that this quarterly report does not look fantastic in the very long run – as RIM is not exactly doing as well as they have in the distant past – but it does definitely look like an upturn in the short term. Keep your heads high, BlackBerry fans! We'll be seeing better days soon – right?