RIM Confirms Blackberry Storm 2 For 2009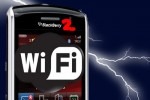 We heard last week from a reliable source that we would be seeing a new Blackberry Storm soon, aptly named the Storm 2. It appears our source was  nearly 100% correct.  RIM's Alain Segond von Banchet, Channel Sales manager in the Netherlands has confirmed the release of the Storm 2.  It will be due out in 2009, and for Europe, late '09 or early 2010.
Also confirmed is a new touch input method, which our source hinted at when originally revealing to us the plans for Verizon to release the Storm 2.  Yet unconfirmed is the existence of WiFi, but we feel that this would be the most obvious upgrade to the device to bring it to compete directly with the iPhone.
We're looking forward to seeing the successor to the first Blackberry Storm, and hope that they've managed to work the kinks out of the clicking touchscreen. With the new App World for Blackberry, the Storm 2 could become the Pro-sumer device that RIM needs to take marketshare away from Apple.
[Via tweakers.net (Google Translation)]