RIM BlackBerry App World software store launches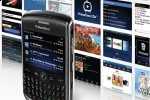 RIM have launched the BlackBerry App World, their version of the on-device app store.  Available initially in the US, UK and Canada – with a broader roll-out to follow – App World will run on any BlackBerry on OS 4.2 or higher, as long as they have either a trackball or a touchscreen.
Software can be downloaded either via WiFi or cellular data connection, and is paid for via a PayPal account associated with the user's BlackBerry App World account.  The app includes thirteen categories – including games, maps & navigation, personal finance & banking, productivity and business – and supports keyword search, a Top Downloads area and front-page carousel of new software. 
There are also reviews, recommendations via email and more.  Both free and for-purchase titles are available, and RIM expect 1,000 apps in the first week from partners including MTV, Bloomberg, NYT, Pandora and Shazam.  You can download the RIM BlackBerry App World app from http://www.blackberry.com/appworld on your smartphone.
Press Release:
RIM Launches BlackBerry App World

Users Able to Easily Discover and Download a Wide Range of Applications Directly From Their BlackBerry Smartphone

Research In Motion (RIM) (Nasdaq: RIMM; TSX: RIM) today launches BlackBerry App World™, a new on-device application store for BlackBerry smartphones.

At launch, BlackBerry App World brings together a broad mix of personal and business applications for users to discover.

BlackBerry App World is immediately available to BlackBerry smartphone users in the United States, United Kingdom and Canada, with more country launches to follow. Users in these countries can download the BlackBerry App World application to their BlackBerry smartphone by visiting www.blackberry.com/appworld from their handset.*

BlackBerry App World is designed to automatically present the relevant catalog of applications available for a user's specific BlackBerry smartphone model.

Users can conveniently access BlackBerry App World over both Wi-Fi and cellular networks.

Mike Lazaridis, President and Co-CEO at Research In Motion, will highlight BlackBerry App World in his keynote this morning at CTIA 2009 in Las Vegas.

BlackBerry App World features currently include:

o Front Page Carousel – BlackBerry App World showcases several applications on its front page carousel, making it easy for users to browse through a select number of featured applications. Featured applications will vary from week to week, helping users discover new applications for practically every aspect of life.

o Top Downloads – The "Top Downloads" area on BlackBerry App World lists applications that are the most downloaded.

o Categories – BlackBerry App World will feature a variety of application categories. Current categories include:

Entertainment

Games

Maps and Navigation

Music and Video

News and Weather

Personal Finance and Banking

Personal Health and Wellness

Productivity and Utilities

Professional and Business

Reference and eBooks

Social Networking and Sharing

Sports and Recreation

Travel

o Search – BlackBerry App World includes a keyword search capability.

o Reviews – Applications on BlackBerry App World can be reviewed by users and those reviews are reflected in star ratings. Users can easily access and read reviews from other users, see screenshots and read a description of each application before they download it.

o Recommend – BlackBerry App World users can recommend applications to other people through email, PIN, SMS message or BlackBerry® Messenger.

o Application Storage – BlackBerry App World includes a folder called My World, which can keep track of applications the user has downloaded. It is a personal storage space that allows users to uninstall and re-install applications and to easily transfer purchased applications to a new BlackBerry smartphone.

BlackBerry App World supports both free and for-purchase applications.

Quotes:

"The BlackBerry platform provides a truly unparalleled mobile experience for millions of people and we are thrilled today to enhance that experience with a new app store that helps connect consumers with developers and carriers," said Mike Lazaridis, President and Co-CEO. "BlackBerry App World aggregates a wide variety of personal and business apps in a way that makes it very easy for consumers to discover and download the apps that suit them while preserving the appropriate IT architecture and controls required by our enterprise customers."

"BlackBerry App World provides a fantastic new resource for consumers and an equally exciting progression of business opportunities for our developer and carrier partners," said Jim Balsillie, Co-CEO. "We are launching BlackBerry App World with a solid selection and we look forward to working with our partners to continue delivering the types of apps that best suit our customers' personalized needs and interests."

RIM expects approximately 1,000 applications to be posted by partners on BlackBerry App World this week, including applications from popular brands such as:

Bloomberg

ClearChannel (iheartradio)

Gameloft

Hotel Reservation Service

LIVESTRONG.COM

Lonely Planet

MTV Networks

New York Times

Pandora

salesforce.com

Shazam

Slacker

Viigo

WorldMate

*BlackBerry App World is available for BlackBerry smartphones with a trackball or touch-screen running BlackBerry device software 4.2 or higher.