RideWith becomes Waze Rider, still in mysterious limited test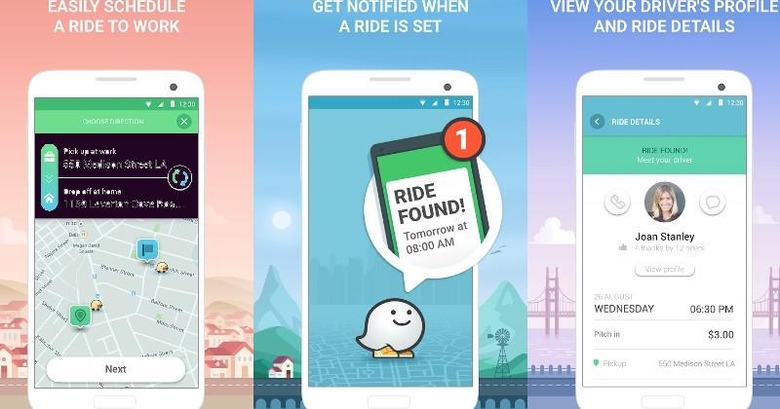 A small, almost quiet, change has happened in an Android app that might have significant implications down the road. Despite the controversy that hounds ride- sharing services like Uber and Lyft, Google seems unfazed in rolling out its own counterpart idea. But it won't be called "RideWith" anymore. That name, which was revealed in the middle of 2015, has been replaced with a more familiar sounding one, "Waze Rider". The idea remains the same but its future is just as murky as it has been months ago.
Waze has insisted that it isn't out to compete with Uber or Lyft, partly by limiting the number of rides a driver can take. But that remains to be seen when the service actually fully launches. When that will happen is still unknown and the recent name change doesn't make us any wiser.
RideWith Waze Rider works like any carpooling service you might have heard of. You simply signify your intention to hitch a ride and a driver who will also be passing by your destination will, in turn, signify his or her availability. The app also allows riders to view more information about drivers, including rating and comments. Pretty much on par with the likes of Uber and Lyft.
Waze Rider might have the advantage of having Waze built right into it, as the crowd-sourced traffic and navigation service is well-known for its timely and helpful tips to get out of traffic. Other than that, however, not much is known about how Waze Rider operates. At the moment, the app is still in limited testing and those signing up will be locked to a waiting queue. Chances are, it is still restricted to Israel where the initial testing phase began.
The change in name, however, especially the rebranding to be associated with a more known name, could hint at an upcoming expansion of that testing. How Google and Waze plans to avoid the legal and social pitfalls that the likes of Uber have fallen into remains to be seen.