Ricoh WG-50 16MP rugged camera is waterproof with Full HD video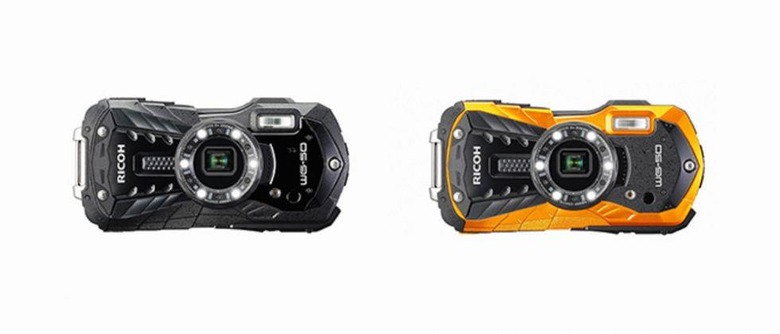 Following multiple leaks over the past couple weeks, the Ricoh WG-50 rugged compact digital camera has been unveiled. This model brings with it a sporty design alongside construction meant to withstand demanding environments, including wet ones like pools and lakes. The camera is waterproof to depths as low as 50ft, all the while bringing with it a 16-megapixel sensor able to record videos at up to a Full HD 1080p resolution.
Ricoh put a lot of focus on ruggedness and waterproof functionality with the WG-50, saying it offers 'dependable operation' in outdoor environments. In addition to being waterproof, the new Ricoh WG-50 can withstand shocks that result from being dropped from heights up to 1.6m / 5.2ft. The camera can also be taken in very cold environments, able to operate at temperatures as low as 14F.
The camera is able to capture both still images and videos, with the still images having a 16MP resolution and the videos being Full HD. The camera, as with most competing models, offers an LCD described as outdoor-friendly, meaning it can be used in bright, sunny locations. The camera also supports camera mount accessories for attaching the camera to things like boats or bicycles.
Ricoh says its new camera offers a high ISO sensitivity of 6400, and also features like a Handheld Snap Mode for taking non-blurry images at night. Other features include a 28mm wide-angle lens and up to 5x optical zoom, as well as six macro lights for up-close photography, a selfie assistance mode, a trio of anti-shake technologies, and a dozen digital filters.
Price and availability aren't clear at this time.