Ricoh Theta V hands-on: 360 camera goes 4K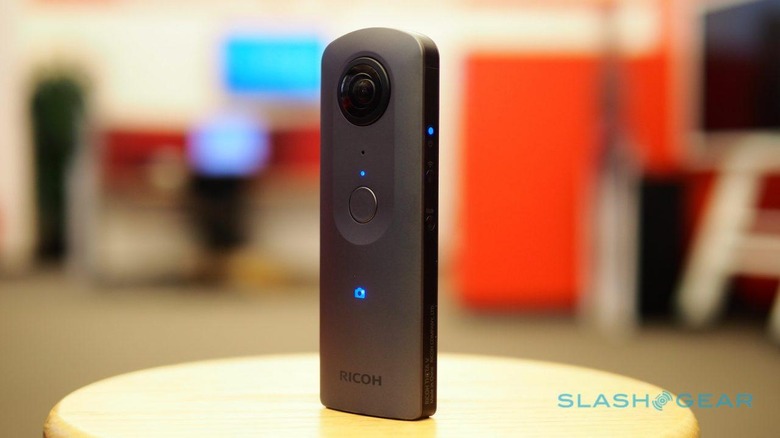 Ricoh has revealed its brand new 360-degree camera, the Ricoh Theta V, stepping up to 4K video and 3D spatial surround sound audio. Replacing the Theta S, which topped out at 2K, the new camera also marks a big architecture shift, being the first 360 shooter to use Qualcomm's Snapdragon 625 chipset. Read on for what you need to know.
The big change with the Theta V is the twin camera sensors. Each now captures 12-megapixels, with f/2.0 optics, for up to 4K UHD video at 30fps (in 56 mbps H.264). Alternatively, you can switch to 2K, though with the Theta V's 19GB of onboard – non-expandable – storage you can save up to 40 minutes of 4K footage. There's a 360-degree still image mode, of course, and interval shooting that can now capture a shot every four seconds, rather than eight seconds with previous Theta models.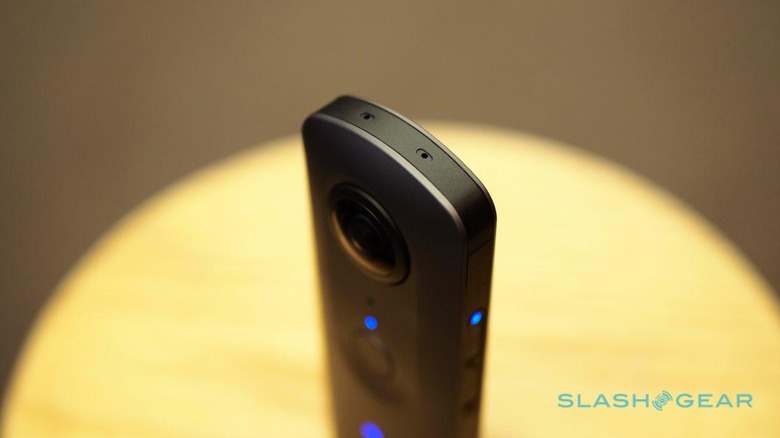 It should be ready for shooting faster, too. Ricoh has used a low-power Bluetooth LE radio for always-on pairing to your iOS or Android smartphone, and by default the Theta V goes into a standby mode rather than shutting off completely when you press the power button. The advantage is that you can take your first photo just 2 seconds after turning the camera on from the app – where previously it took around 20 seconds to establish a WiFi connection – plus you now get location tagging courtesy of the phone's GPS whether you snap the shot from the camera or the app. Image transfer, mind, still takes place over WiFi.
Ricoh has done all this with minimal changes to the physical design of the Theta V, compared to its predecessors. That has a welcome side-effect when it comes to the new TW-1 underwater housing case, a $199.95 plastic shell that allows you to use the Theta V up to 30m (98 feet) underwater, but which also is compatible with the Theta S and SC. It'll launch in October.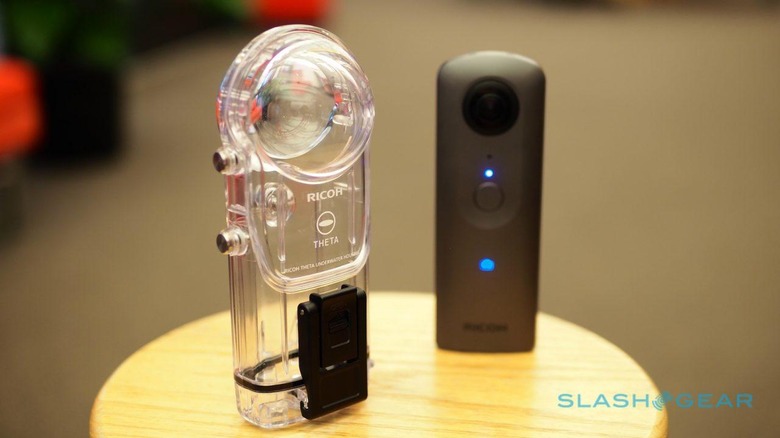 The primary change is on the underside of the camera. The Theta V drops the HDMI connection of the old models, replacing with a 3.5mm audio input. That works with the new TA-1 3D microphone, made in collaboration with Audio-Technica, which attaches to the tripod port on the bottom the camera. It expands the audio frequency range at both the top and low-end, compared to the Theta V's own four microphones. Either way, you get 4-channel 4D spacial sound, but the TA-1 improves quality.
As a result, Theta is pitching the $269.95 add-on as of particular interest for those recording music or theatrical performances. Cleverly, it's designed so you can still plug in the microUSB power cable even when the TA-1 is attached. Battery life for the camera is up to 260 images or 65 minutes of video recording.
Inside, Ricoh has effectively given the Theta V the architecture of a smartphone, only without the cellular radios and display. A customized version of Android runs on Qualcomm's Snapdragon 625, giving the camera much more processing grunt to take advantage of. That, eventually, will mean less time waiting for 360-degree content to be exported.
Currently, the Theta cameras only stitch together and render their 360-degree video while it's being transferred wirelessly to the WiFi-tethered smartphone. Initially the Theta V will do the same, though Ricoh says that – thanks to the 10x faster WiFi radio – it'll only take the same length of time as a Theta S might, despite capturing at much higher resolution.
A firmware update in October, however, will allow the Theta V to do stitching in real-time. The result will be transfers that take less than half the time, the company showed me, but also which automatically correct slant at the top and bottom of the frame courtesy of the integrated gyro sensor. Previously, you'd have to do that manually in the Ricoh PC app.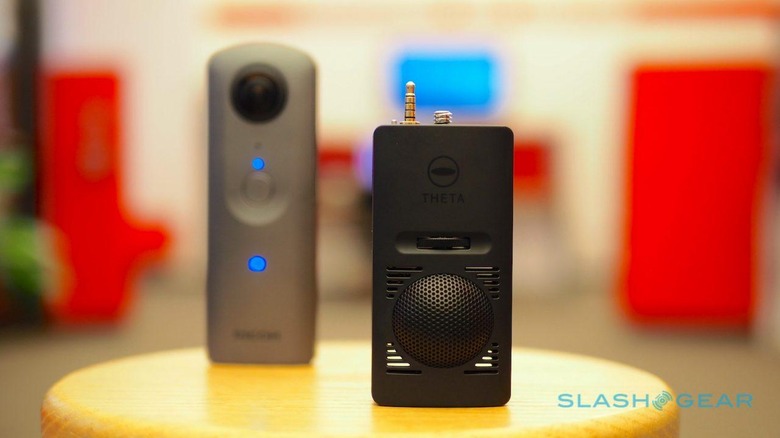 Sometimes, though, you might not even need to export at all. The Theta V supports Miracast so that, if you have a compatible TV or a set-top box like Amazon's Fire TV Stick, you can link the camera to it wirelessly and then browse photos and video directly from its own storage. Navigation comes courtesy of waving the Theta V around like a Wiimote controller. It's the first example of an Android-based plugin that Ricoh's engineers have developed, though they plan more and, one day perhaps, could open the platform up to third-party apps and services.
Though the Theta V is powerful, Ricoh has made a few decisions that don't make much sense to me. The biggest concerns 360-degree video live streaming, something which rival cameras like Samsung's Gear 360 support through a smartphone, but for which the Theta V demands a USB connection to a Windows PC. It'll be decent quality if you do – 4K resolution at up to 120 mbps – but it's not going to be as straightforward for people wanting to stream on the go. Ricoh tells me it made the conscious decision not to support wireless 360-degree live streaming, because it could only guarantee it working on a subset of high-end devices and it thought that could get confusing for consumers.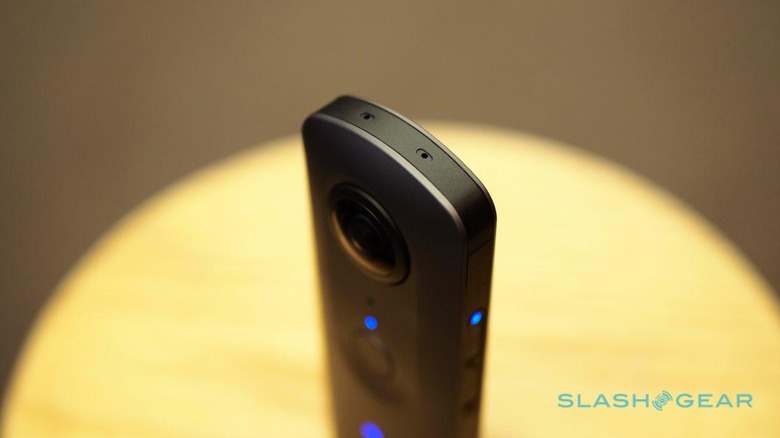 That's admirable, but it doesn't quite jive with the Theta V's overall positioning. At $429.95 when it hits stores in mid-September, it's clearly at the high-end for standalone consumer 360 cameras. Its redesigned app, though cleaner now, still gives control over a plethora of settings including ISO (up to 1600, with 3200 in manual mode), white balance, shutter speed (up to 1/25,000 second), and more.
Sharing clips with 360 spatial audio will take a little expertise, too, since currently you can't easily export from the Theta V to, say, YouTube. Ricoh says it's working with the YouTube team on that, but for the moment you'll need to go through the hassle of using a third-party app like Adobe Premiere Pro. If you were hoping to share on Facebook, meanwhile, that's simply not possible today, though Ricoh tells me it believes it's on the social network's roadmap.
Back when Ricoh launched its first Theta in 2013, the company effectively had the 360-degree consumer camera market to itself. Since then, we've seen both standalone and plug-in cameras proliferate, many significantly cheaper than what the Theta V will cost you (the Theta SC will remain on sale at $199.99). From what I've seen, the Theta V's video quality is top-notch, but I suspect you'll need to be a true 360 video fan in order to get the most out of its upgraded hardware.
[Update: Corrected to clarify the Theta V runs a Snapdragon 625, not an 835]