Ricoh GR III Review: Tiny camera, huge appeal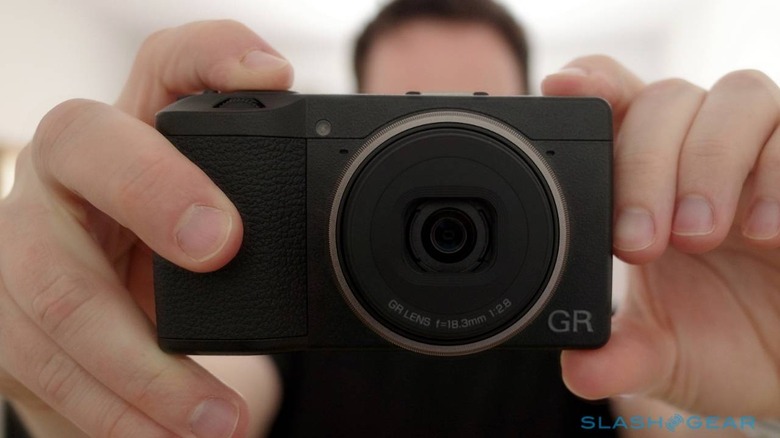 The smartphone may have replaced a dedicated camera for many, but the Ricoh GR III is here to remind us that's not universally the case. The latest in Ricoh's series of super-pocketable street shooters, it packs the highest resolution sensor yet – and, at $899, the highest price tag too.
Stealthily familiar
Ricoh didn't risk alienating its GR fans when it designed the GR III. There's no mistaking the camera, though even those familiar with earlier models may still be surprised at just how small this newest version is. More compact than the GR II, it proved small enough to squeeze – just – into my front jeans pocket.
The goal was something wieldable for one-handed shooting, and there Ricoh succeeds. Plenty of texturing and some deftly-placed rubber makes it easy to grip, and it's lightweight too, though that did make me cautious about dropping it as I'm not sure it would live up to too many bumps and impacts. With stealthy street photography in mind, there's little in the way of shiny stuff to catch the eye. Even the "GR" logo on the front is subtle.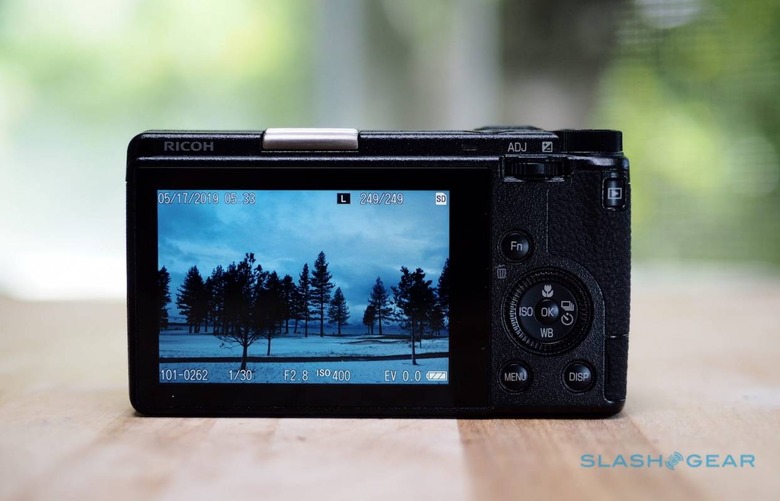 Despite the dimensions, there are plenty of physical controls. A mode dial on top – with three user-set custom preset slots – along with two dials, a jog wheel and d-pad, and ten different buttons are clustered around a 3-inch touchscreen. Sadly what you don't get is an electronic viewfinder: there simply wasn't space for it. The GR II's flash is gone, too, though I missed an EVF more.
An SDXC card slots in the bottom – adding to the 2GB of built-in storage Ricoh gives you – alongside the battery. The latter charges via the GR III's USB-C port; or you can pop it out and slot in a full one. Ricoh rates it at 200 shots, though I found it was heavily dependent on how much you used the display, particularly for reviewing images. Bluetooth and WiFi available, working with Ricoh's companion smartphone app. It's handy for quickly offloading shots for social networking use.
Tiny camera, big sensor
The GR III's is like a clown car at the circus, tiny but spilling over with people once the doors are open. In Ricoh's case, the party trick is a 24-megapixel APS-C sensor with a 28mm focal length equivalent. It's huge compared to what you'd find in your phone or, indeed, other cameras of its scale.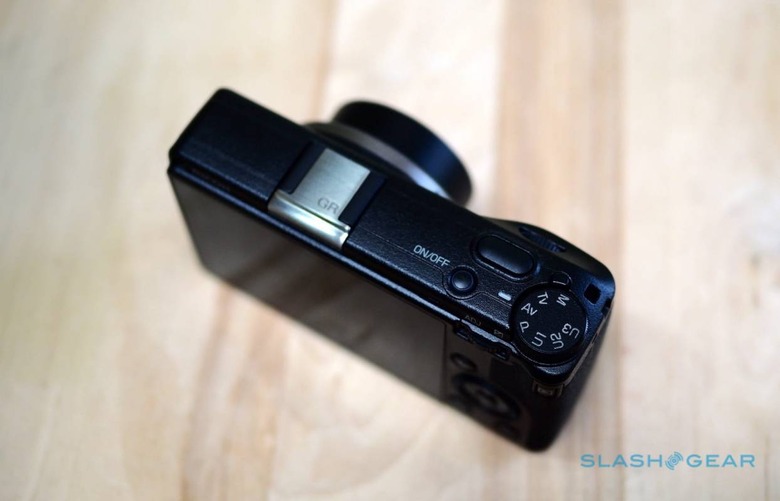 Ricoh pairs its new sensor – 8-megapixels more than you got from a GR II, mind – with an f/2.8 lens and three-axis image stabilization. The latter is good for a four stop improvement; ISO maxes out at 102,400. Dig into the settings and you can find 35mm and 50mm crop modes, albeit with the expected dip in resolution. There's also a two-stop optical ND filter.
The touchscreen makes tapping a focal point easy, and there's a new autofocus system. That combines phase detection for speed and contrast detection for accuracy. Paired with a swifter start-up time – under a second, Ricoh promises – the idea is that the GR III should be ready to capture before your subject even realizes.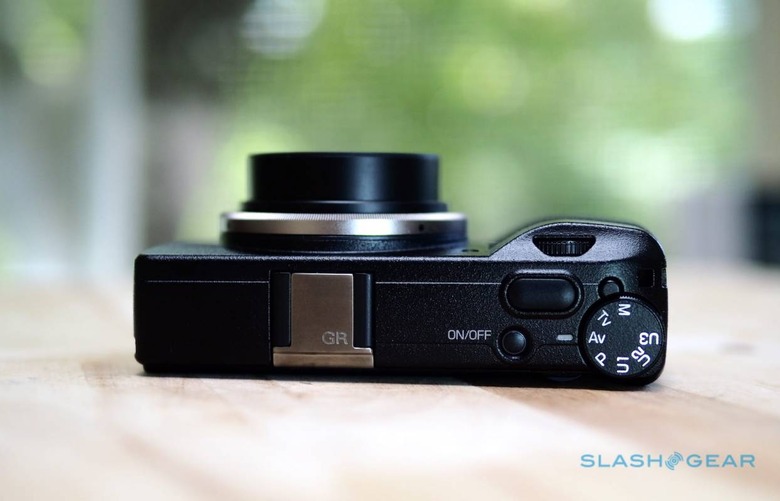 The reality is that, even with its new hybrid system, Ricoh's AF can still be frustrating. In low-light in particular, the GR III can prove stubbornly reluctant to lock; even when it does, it can be obstinately contrary in what it decides is the most important part of the scene. More than a handful of my shots ended up nicely framed but with the natural subject out of focus.
What the GR III isn't, really, is a camera for videographers. With no 4K support, you're limited to 1080p/60 at best.
In use, capturing the scene not disrupting it
Everything about the GR III says that it has no interest in being the center of attention. The monochrome color scheme is subtle; not only can you turn the AF sound off, but even snuff out the green power LED too. Some of the best, least-staged photos I captured were with the GR III tucked into the crook of my folded arms, my finger surreptitiously squeezing the shutter button.
Most of the time I like to shoot in aperture priority mode, using the rear control dial to nudge up and down the brightness. Ricoh's customizable modes, however, made it easy to set up a monochrome filter setting too. I'm a sucker for a black & white shot, and while I do prefer the tweaking potential found on the Olympus PEN-F, the Ricoh's desaturated stills are still impressive.
Indeed, there's a whole lot to like about the GR III's images. It can be hard to see just how good they are on the compact touchscreen; it's only when you get them onto your computer that you start to see just why Ricoh made the spec decisions it settled on.
Detail is plentiful, and even single-handed there's an admirable lack of blur or shake. Noise is low, too, and while colors can be muted at their default setting, it's easy to punch them up either with the in-camera Vivid setting or during post-processing. Anything in the ISO 100-6,400 range is more than usable; even higher up, the noise and grain that starts to appear can actually be fairly pleasing.
GR enthusiasts speak of their cameras' somewhat distinctive blend of colors, texture, and vignetting. The GR III doesn't stray too far from that. The slightly darker corners make for a great portrait camera. I'm partial to narrower apertures, personally, but the f/2.8 is a good balance of usability while still allowing for some judicious bokeh action.
There are more sample images from the GR III in the gallery linked below
Ricoh GR III Verdict
I find I'm almost bemused by my feelings about the GR III. The reality is that my phone's camera can handle 80-percent of the photography I want or need to do. The rest – which is generally for work purposes – I have a Micro Four Thirds camera which gives the flexibility of interchangeable lenses and more creative possibilities. It's tough, on paper at least, to see where the little Ricoh could fit in.
And yet... the GR III carved a place in my affections nonetheless. Partly that's down to the quality of the images it's capable of, but it's also its speed and its purity of purpose. I'm not pulling out my phone and getting distracted by Twitter or the latest work email. The Ricoh is all about capturing the moment while you're still living in it.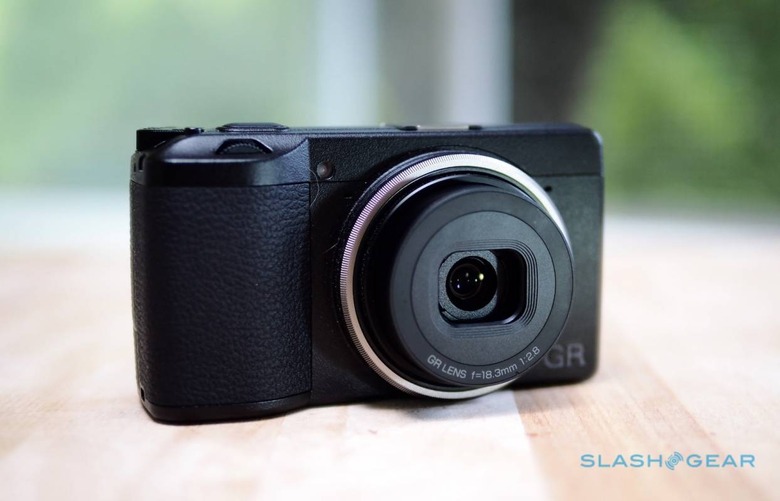 It's not perfect. I'd love to see an EVF, and the autofocus system could still use some work. Really, though, the biggest stumbling block is the price. $899 is, on the one hand, not much given how much sensor Ricoh has fitted into so small a body. At the same time, though, it leaves the GR III a fairly tough sell when a smartphone costs about the same, probably has all the camera you really need, and plenty more features beside.
So yes, the Ricoh GR III is a luxury, but that shouldn't undermine quite what has been achieved here. If you can afford it, you're getting something that manages to avoid too much overlap with either big, professional cameras or a smartphone. In short it may be small, sure, but its appeal is huge.