Ricavision SideShow-based E-Book could launch November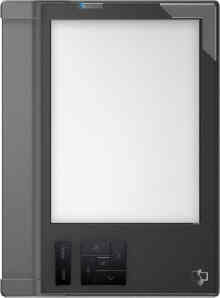 News freshly drizzled onto the pages of Ricavision suggest that their wireless e-ink Home E-Reader is set to launch next month.  Ricavision, who have already made a name for themselves leveraging Windows Sideshow into cordless devices such as remote controls or fridge magnets, saves money on the device by offsetting the processing and rendering duties to your Vista-based PC.  That the squirts pages from the e-book wirelessly to your slim E-Reader.
Of course, if it were tethered – albeit wirelessly – to your home computer or even a laptop, that wouldn't make the E-Reader much use.  Thankfully the device can cache pre-rendered pages and display them when out of wireless range.
"The Ricavision Home E-Reader is a small handheld portable device wirelessly connected to a PC running Windows Vista that functions as a normal enhanced device for Windows SideShow. The display is of the reflective eInk type, which is optimized for reading documents, so that reading is as comfortable with the Home E-Reader as it is from print on paper. The Ricavision Home E-Reader enables the user to cache a large number of pages, including entire books, on the device so it can also be used out of wireless range of the Windows Vista-based PC. The Home E-Reader also includes stylus capability. It uses SideShow as the primary GUI and Windows Vista as the means by which pages are actually rendered for display on the device"Ricavision literature [pdf link]
Requiring users to run Vista is not an ideal way to grow market share, but recognising that you'll sell more units if both price and size are as small as possible is.  Hopefully we'll see future devices that offset their processor requirements – but on a more open model – and thus come in at a lower, more pocket friendly price point.
Ricavision [via MobileRead & TeleRead]