Revo iBLIK RadioStation iPod dock with WiFi & DAB digital radio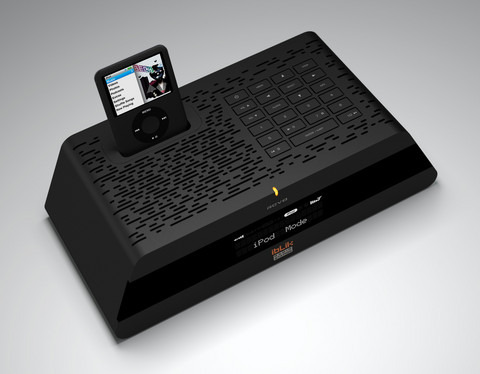 Revo have added iPod compatibility to new models in their iBLIK range of DAB digital radios and WiFi streamers.  The iBLIK RadioStation features DAB and DAB+ radio reception, FM radio with RDS, WiFi internet radio and digital music streaming from PC or Mac.  There's also an iPod dock which both plays back content stored on the PMP and simultaneously recharges it.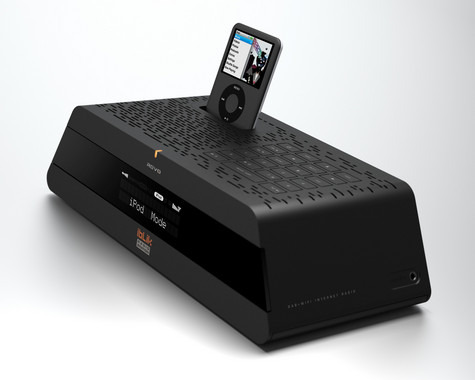 Another mode, the iBLIK Wi-Fi, keeps the streaming and iPod functionality but omits DAB digital radio.  Both have the same somewhat blunt styling, and are based on Frontier Silicon's new multi-standard Venice 6 DAB module.
The two new iBLIK models will be sold in Europe by both Apple and independent retailers.  The RadioStation is priced at £$179.95 ($356) while the Wi-Fi version is cheaper at £129.95 ($257).
Press Release
Revo Add iPod Docking to World's First Hybrid DAB/DAB+ and Wi-Fi Internet Radio

Lanark, 25th July 2008: Revo Technologies Ltd is pleased to announce the world's first

one-box DAB/DAB+ and internet radio to include full iPod docking functionality.

The launch of its iBLIK RadioStation model is the firm's first venture into the bourgeoning

Made for iPod market. Significantly, iBLIK RadioStation will be sold by Apple in its

European retail stores as well as online.

iBLIK RadioStation boasts a bold, contemporary design – reflecting the cutting-edge

nature of the product itself.

It features full DAB and DAB+ digital radio reception, FM radio coverage with RDS, Wi-Fi

internet radio (easy access to over 11,000 stations from around the world), MP3 media

streaming from PC or Mac, full electronic alarm clock features and iPod docking station

functionality.

David Baxter, Managing Director of Revo Technologies said: "We believe that iBLIK

RadioStation is the ultimate digital radio device. Its combination of DAB and DAB+

coverage, FM radio reception, internet radio, MP3 media streaming and full iPod

playback further pushes the perception of what a digital radio is capable of."

iBLIK RadioStation is the result of a long and fruitful collaboration between Revo

Technologies and Frontier Silicon, the industry leader in digital radio technology. At the

heart of iBLIK RadioStation is Frontier Silicon's new multi-standard Venice 6 module.

As well as iBLIK RadioStation, REVO has launched a second model in the iBLIK range –

known as iBLIK Wi-Fi. iBLIK Wi-Fi has the same features and capabilities as iBLIK

RadioStation, but without coverage of DAB and DAB+ digital radio.

iBLIK RadioStation has an SRP of £179.95 while iBLIK Wi-Fi is priced at £129.95.

iBLIK RadioStation will be available from the 18th

of August from all branches of John

Lewis, Apple Store and the usual REVO retailers, or alternatively directly from

www.revo.co.uk

iBLIK Wi-Fi will be available from selected branches of Currys.digital and PC World, or

directly from www.revo.co.uk