Review: TerraTec NOXON iRadio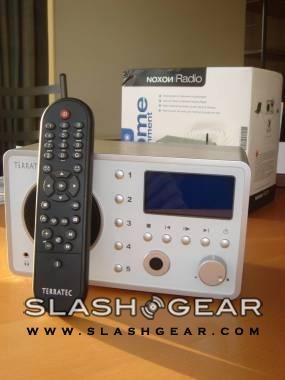 I confess, I'm preaching the dream but up until a month ago I wasn't living it. The dream is, of course, distributed audio: I'm a huge fan of keeping all your music digitally on some server in your house, and streaming it wirelessly to whichever room you're sitting in, but I've never had the money or time to set up such a system myself. Of course, for many DIY installers the flagship is Sonos' incredible Digital Music System (reviewed by SlashGear last November), but there are other – cheaper – ways to enjoy your favourite albums while cooking, ironing or pooping.
TerraTec's NOXON iRadio is one such way. A compact, 215x120x110mm box weighing just 1kg, it not only streams your digital music collection but can access thousands of internet radio stations, all played through the built-in speaker. An 802.11g WiFi adaptor takes care of wireless connectivity, as well as a standard ethernet port for network traditionalists, with control managed either by front-panel buttons or IR remote.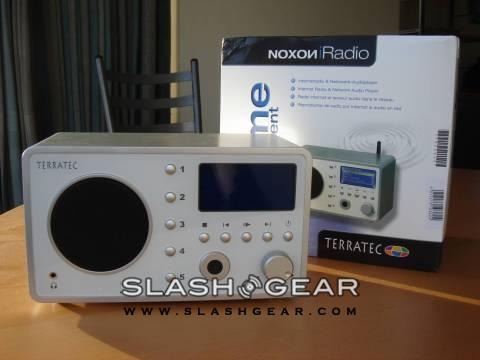 Setting up the iRadio is pretty simple. It's mains-only, which means no beach use (though I'm not sure how many WiFi connections you get on coastlines these days, it's been a few years since I got my bucket & spade out), and on powering up you're faced with the network configuration wizard. TerraTec thoughtfully provide both a quick-start guide and a rather conversational – though nonetheless comprehensive – full manual, which runs through wired and wireless setups, dealing with proxy servers, playing around with recalcitrant routers and more. Nobody is ever going to make networking easy, but Terratec have at least managed to make it pretty straightforward to follow.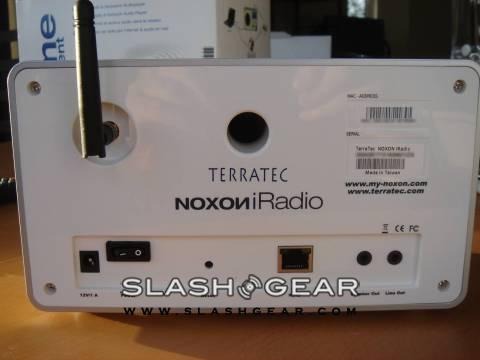 Happily the iRadio is compatible with WEP, WPA and WPA2 WiFi encryption, so no matter how you've got your wireless network secured you should be able to use it (you *have* got it secured, haven't you?) The configurator wizard automatically scans for networks and then you use the numeric keypad on the remote control to punch in the encryption passcode, SMS messaging style. Here I came a little unstuck at first; the section in the manual on text entry doesn't mention how to switch between lower-case (which it defaults to) and upper-case, so I had some brief head-scratching before finding elsewhere that you need to press the '+' button. Once the code was in the iRadio latched happily onto the network; you can store up to three different network profiles, so if you move between routers you won't have to run the setup program each time.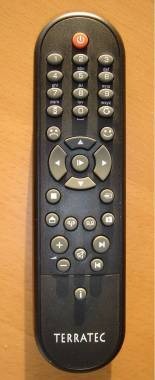 Now I assumed that once it was all connected I could just share my mp3 folder and merrily stream the music; that's not the case. The iRadio uses the UPnP server standard, and included on CD with the radio is the ridiculously named TwonkyMusic software from TwonkyVision (for your PC) and elgato EyeConnect (for your Mac). Run that on each computer, select the folders you want to share, and TwonkyMusic quietly goes about its business monitoring for new files, offering them up and allowing you to search by artist, genre, album or folder structure. To be fair, it's a better system once up and running than simple shared folders, but the initial hurdle is frustrating. Plus, if you're thinking of storing your entire music library on a network-attached hard-drive (NAS) then you need to make sure that whichever you choose (or already have) has UPnP, otherwise all manner of jiggery-pokery will be needed to get it working. Buyer-beware, not every NAS drive comes with UPnP, so check those spec-sheets carefully.
Once your UPnP server is running it shows up in the main menu on the iRadio's backlit screen. Different PCs running their own servers have individual entries, so if your partner forcibly vomits on hearing your Chechnyan acid-jazz compilations they can pick their own server and save the walls from getting spattered with impromptu puke. You can then use either the remote or the panel controls to navigate, or search for particular tracks via the same SMS-style text entry as described earlier; the success of your search will depend of course on how complete the ID3 tags are.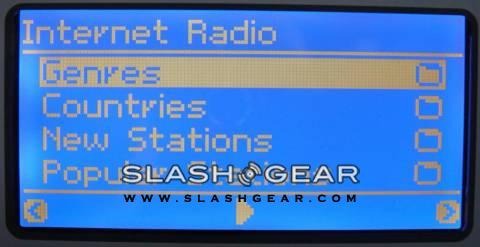 Format-wise, the iRadio can stream mp3 (encoded at up to 320kBit/s for you audiophiles), AAC+, WAV, OGG Vorbis, WMA and DRM-encrypted WMA files; you also get a full subscription to the vTuner Premium internet radio service, which is basically a database of continuously updated stations organised by genre and location. TerraTec boast that vTuner has over 10,000 different stations, and having trawled through some of the options I have no basis to disagree with them. It's pretty safe to say that no matter what your preference in musical style (or language of talk-radio) you'll have a fair choice; the option is also there to go to the vTuner site, punch in the MAC address of your iRadio and add to the list of stations. The unit will synchronise and update the station list accordingly.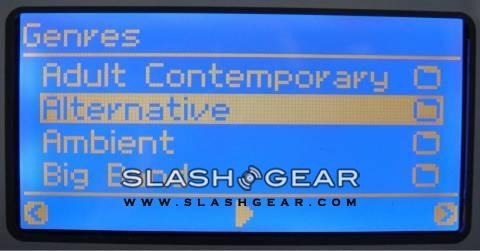 If anything, in my experience I had perhaps too much choice. As far as I could tell there was no simple way to preview each channel other than select it, so auditioning a full category (such as, say, Modern Classical) can be a protracted process as you wait for the connection to be made. Other than station name (and the country or genre category in which you found it) you have no way of finding out details of the music played or the schedule the station operates, which is frustrating. Thankfully, once you've found a station you like it's a simple case of holding down one of the five front-panel preset buttons to store it for easy recall (you can store more channels using the number keys on the remote, too).
Sound quality, despite only having a mono speaker, is reasonable, with fair bass reproduction and clear vocals. Talk-radio had a pleasingly rounded tone, and the line-out and headphone sockets mean that should you prefer to plug in alternative speakers (or hook it up to a hifi) you can. A minor frustration is the volume control; the front-panel dial is a manual control, while the remote adjusts it electronically, and the two are not connected. I took to leaving the dial turned up to max and making all adjustments with the remote, rather than reaching the limit of the electronic volume and having to get up to physically increase it.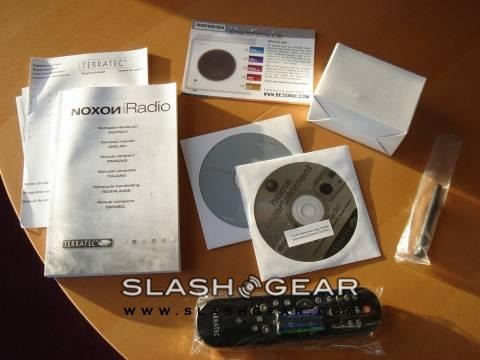 As I said, though, it's a minor point; the iRadio is generally very good at what it does. The speed at which it tunes into internet radio stations is dependent of course on network and internet traffic, which can prove frustrating at times, but this is likely an issue with any sort of radio client, hardware or software. In most cases where a channel persistently refused to stream, forcing an update of the vTuner database fixed the problem; the update itself is quick and painless.
The iRadio is currently available from around £125 upward in the UK, and $180 upward in the US. Whether you see that as a bargain or otherwise depends on your attitude to music and your level of tech-literacy; there's no doubting that it's easier to get straight to music with the iRadio than it can be surfing from site to site to find a suitable station (and making sure you have the right audio player and codec on your computer). While I thought at first that I would primarily use it to stream my existing music collection, in actual fact I'm listening to the radio more; the new content is refreshing, while not having adverts in-between every two songs makes for a far less jarring experience than traditional FM stations. Besides, it's nice to be not just preaching the dream but living it too.
Many thanks to TerraTec for the review unit; you can see the full SlashGear iRadio gallery here.