Retina iPad mini, iPad 5 without Touch ID amongst KGI predictions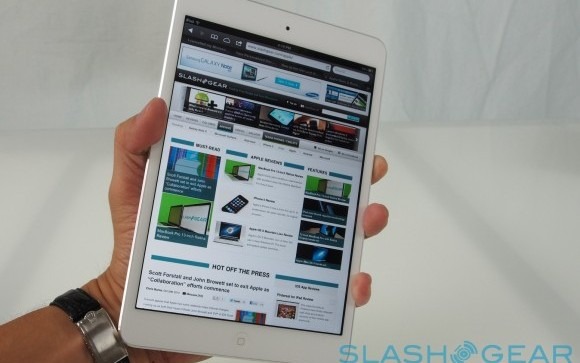 The second iPad mini will include a Retina upgrade and the iPad 5 will not have TouchID as was previously rumored, according to KGI Securities analyst Mingchi Kuo. These and a bevy of other predictions were released today in advance of the Oct. 22 iPad event to be held in San Francisco. The event will unveil a series of updates to the various iPads as well as to the MacBook Pro.
According to Kuo, the iPad mini will be somewhat heavier due to the Retina upgrade. This resolution improvement has been in the works for about a year, and its release looks to be on-schedule. It will run on the powerful A7 processor, the same chip used in the iPhone 5s.
The iPad 5 will slim down a bit to 7.5 mm, lighten to 500 grams, and run on the new 64-bit A7X processor. Its lack of TouchID is due to the run on demand for the part, which is barely keeping up with iPhone 5s demand. The back-facing camera on the iPad 5 will increase to 8MP with a larger aperture.

The MacBook Pro will have a new processor, the Intel Haswell. This should increase the computer's power and extend its battery life. The camera will upgrade from HD to full HD "to improve FaceTime quality on Retina display," according to the Kuo report.
There's more on what to expect from Apple's October 22 event in our pre-show round-up. SlashGear will be there to bring you all the news as it happens in our liveblog; join us from 10AM PT (that's 1PM Eastern and 6PM in the UK) at live.slashgear.com for all the ipad news and whatever else Apple decides to announce!
SOURCE: 9to5Mac