Retina iPad mini gutted by iFixit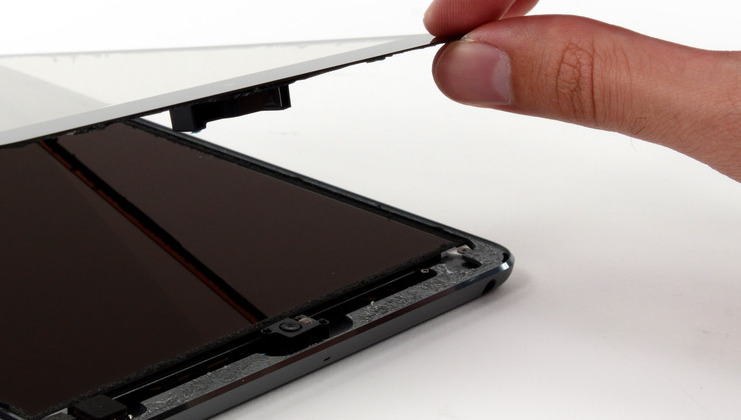 You'll find a rather familiar set of bits inside the iPad mini with Retina display this week from the likes of iFixit. The folks notoriously attached to the term "teardown" have found this machine to work with a repairability rating of 2 out of 10 – not so fantastic – but the whole organization of this device's innards are fantastically simple nonetheless. Inside you'll find a variety of parts from brands like Toshiba, NXP, and Elpida too.
Also under the hood of the Retina iPad mini you'll find a B334 STMicro MEMS accelerometer/gyroscope, the exact same model as appearing in the iPad air. That's not the only part that's the same as previous or current-model iPads, mind you – the Apple 338S1199 bit is tagged as likely to be "similar" to audio amplifiers in previous iPad mini devices. There's also an Apple 343S0656-A1, a likely variant of the iPad Air's Dialog PMIC.
You'll find Fairchild Semiconductor parts under the hood alongside the NXP LPC18A1 as well. This NXP piece of equipment is otherwise known as the Apple M7 motion coprocessor, if you're interested in the tiny details – and if you've read this far, we must assume you are! An Apple 338S1213 Cirrus Audio Codec also sits under the hood alongside an Elpida F8164A1PD 1 GB LPDDR3 DRAM for the Apple A7 chip.
The Apple A7 chip itself works with the number Apple A7 APL0698. This is especially important due to the number being exactly the same as it appears on the iPhone 5s. In other words – both the iPhone 5s and the Retina iPad mini work with the exact same version of the Apple A7 chip – how about that?
NOTE: Don't forget to check out our iPad mini with Retina display first-impressions as well – right out the box!
Have a peek at a few more iFixit teardowns in the timeline below, and keep on trying to repair!