The iMac has always had a certain wow-factor, particularly in its most recent design iteration with its 5mm-thick body, but pair that with the new Retina 5K Display and you have an even more eye-catching machine. Announced at Apple's event this morning, the iMac has a whopping 5120 x 2880 display for a huge 14.7m pixels, and while that means you can't see them individually, check out after the cut for the sum impact… with a surprise interruption from Apple CEO Tim Cook to tell me about the new all-in-one's "wow" factor.
It's truly an incredible panel, four times the resolution of the existing 27-inch iMac which remains on-sale as the mid-range model above the 21.5-inch version.
Get up close – so close your breath fogs the screen, in fact – and the details are still immense. Apple had one photo of a lion, the individual hairs on its nose visible, but 4K video playback was just as compelling.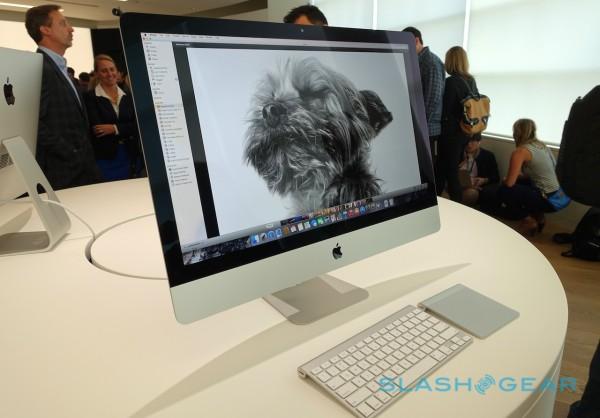 The extra detail isn't the only improvement, however. Apple's work on shrinking the depth of the LCD – optically laminating the various layers together so as to cut out air gaps and the internal reflections they can lead to, among other things – has also led to whiter whites and richer, inkier blacks.
It's the perfect machine if you're doing heavy-duty video or photo editing – after all, being able to see 100-percent of your 4K footage while still having room for the Final Cut Pro interface around it makes a big difference to workflow – but the Retina 5K Display is likely to find favor among even those without a specific use in mind.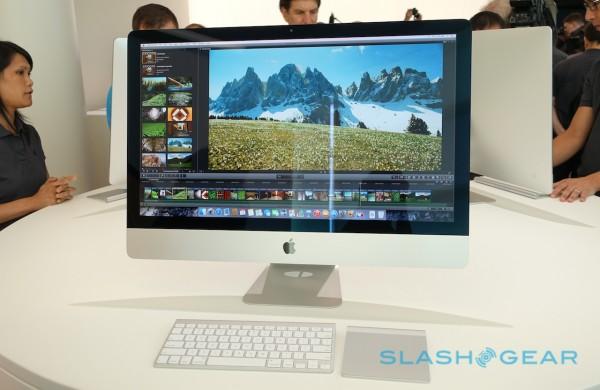 That's what Tim Cook suggested to me, anyway, turning up unexpectedly during my video demo to explain why he thinks the new iMac will be a hit. According to Cook, this is an Apple product that should sell itself particularly well in stores when, echoing his own reaction, the very nature of the panel will make its $2,499 price tag seem a lot more reasonable. (Unfortunately, because of the surrounding noise it's a bit tricky to make out what Cook was saying.)
You get a higher level of specifications, too, with a 1TB Fusion Drive as standard along with a quadcore Intel Core i7 processor. A pair of Thunderbolt 2 ports rather than Thunderbolt are useful, too, though unfortunately there's not way to use the Retina iMac as an external display for your MacBook Pro with Retina or Mac Pro, since DisplayPort simply isn't designed for 5K resolution.
Nonetheless, if picture quality is important to you, the new Retina iMac may just be the best friend your desktop ever had. We'll know more when we put the Yosemite beast through its paces for the full SlashGear review.