Retina 13-inch MacBook Pro pricing tipped at $1699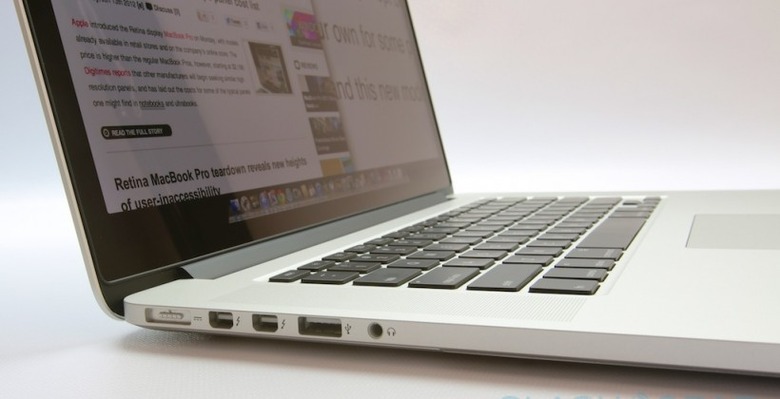 The folks at Apple have been tipped to be bringing on the 13-inch version of their lovely Retina-quality display-toting MacBook Pro soon, and with a price tag that jumps $500 over the non-Retina version of the device. The 2,560 x 1,600 pixel display on this device was reported as having started production earlier this year – in August, to be precise – and the announcement of the notebook will quite likely be appearing at the Apple event coming up on the 23rd (next week.) This notebook will almost certainly have the same specification upgrades that the Retina MacBook Pro had in its original iteration as well.
This new MacBook Pro will be significantly thinner than its predecessor. It'll have some downward and outward-facing head vents and will be working with a Thunderbolt port, of course. You'll be working with USB 3.0 (one or two ports, we shall see) and a full-sized HDMI port as well. This version of the MacBook Pro will be working with the newest version of the power cord that Apple presents as as the most advanced and physically sensible version yet.
You've also got a full-sized SD card reader and a headphone jack – and remember, all of this information comes from the look we've had at the MacBook Pro with Retina display we've already had a look at – all 15 inches of display that it is. This device has a whole new fan system inside, it's got a whole new upgraded processor under the hood, and some lovely NVIDIA GeForce action for graphics, too. Benchmarks on the 15-inch version we've reviewed already showed the newer version to out-do the older version by a significant margin in several areas.
The battery time will be the same as the previous model, the design will replicate the 15-inch model, and the unit will more than likely be up for sale well in advance of the holiday season. Have a peek at our recent posts regarding this unit in the timeline below and feel free to bet on it being shown off next week. Join us on the 23rd to see how it all goes down, we'll be covering the Apple event live!