Refurbished iPhones now available from Apple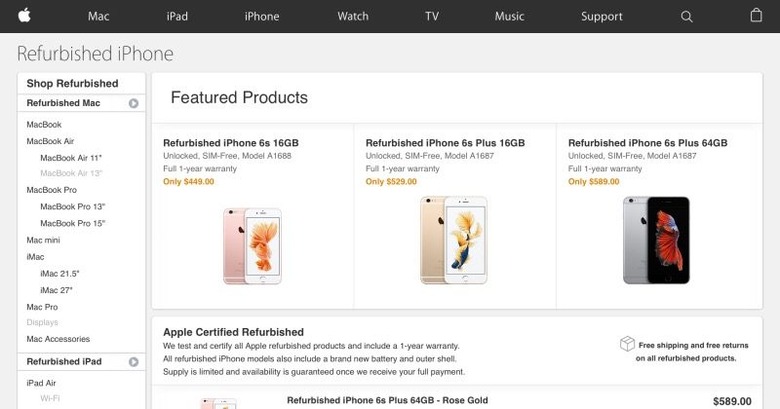 Not everyone who wants an iPhone may want to pay the full price for a shiny, completely brand new unit. Some might be satisfied with the most affordable deal that will land them a functional one. But the second-hand and refurbished market for iPhones isn't exactly a worry-free one, but now Apple is swooping in to save you from anxiety, and earn your money as well. Apple has just silently added iPhones to its list of refurbished products for sale, giving aspiring iPhone owners another route to their dream smartphone.
It's not perfect, of course. There's no going around the fact that a refurbished product, even one sold by Apple, has been previously owned and returned for one reason or another that Apple will never divulge. Of course, refurbished devices that Apple itself sells come with the explicitly guarantee that they have been tested, even "rigorously", before being resold. It's not entirely impossible, however, that something might sleep through the cracks.
For some, the price cuts might very well be worth the risk. A 64 GB iPhone 6s Plus
, for example, goes for only $589, which is a good $110 less than its original price. A 16 GB model, on the other hand, is only $80 less at $449. Both, however, translate to a 15% discount. All color options are available, including Space Gray, Silver, Gold, and even Rose Gold, but only the iPhone 6s and 6s Plus are being sold and nothing older or newer.
To offer even more peace of mind, Apple gives refurbished products a 1-year warranty, in addition to replacing the outer shell and slotting in a new battery. In other words, they all look brand new and may even behave as such. Refurbished iPhones are all unlocked and SIM-free, which means you can use them with the carrier of your choice.
SOURCE: Apple
VIA: MacRumors