RED's Hydrogen One 3D smartphone coming to AT&T and Verizon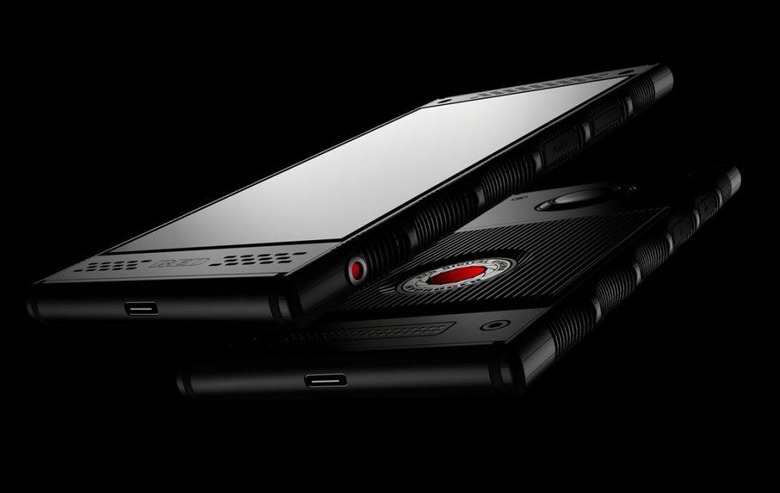 RED's Hydrogen One smartphone is headed to AT&T and Verizon this summer, offering a glasses-free 3D display and an interchangeable camera system. First phone from the famous RED camera company, the Hydrogen One has a 5.7-inch display that uses a homegrown 3D technology that's been branded 4-View.
4-View will actually apply to both consuming 3D content and creating it. The Hydrogen One will be able to capture 3D footage with its own cameras, both those on the rear and those on the front. However, it's the interchangeable lens support that has many RED fans fascinated.
The Hydrogen One will support different camera modules being attached, hooking up to a set of pogo-pins on the rear of the phone. Multiple modules can be stacked, in fact, with power and data being passed in both directions. So far we haven't heard which module partners might be involved, though.
The phone itself runs Android on a Qualcomm Snapdragon 835 chipset. It's a little larger than a regular 5.7-inch smartphone – about 2 ounces more, RED has said, and slightly thicker – but the company has used that to add a larger than usual battery. In fact, you get a full 4,500 mAh.
Since RED expects content creators to be all over the phone, that big battery will probably come in useful. RED is launching the Hydrogen Network, a series of channels that offer 4-View content together with games, music, and films. The promise is that both big-name developers, musicians, and directors will be involved, in addition to independent creators.
For AT&T and Verizon, the promise is official network support. That's something many questioned whether the Hydrogen One would have back when RED first announced it. Indeed, RED delayed deliveries of its early preorders until later this year, citing greater-than-expected complexity in getting the phone officially certified by the carriers.
Pricing and specific availability haven't been confirmed yet, though it's fair to assume the Hydrogen One won't be a cheap handset. Preorders opened at $1,200 for a SIM-free, unlocked device, after all.