Redmi TV 70 is brand's first: A 70-inch 4K TV for around $530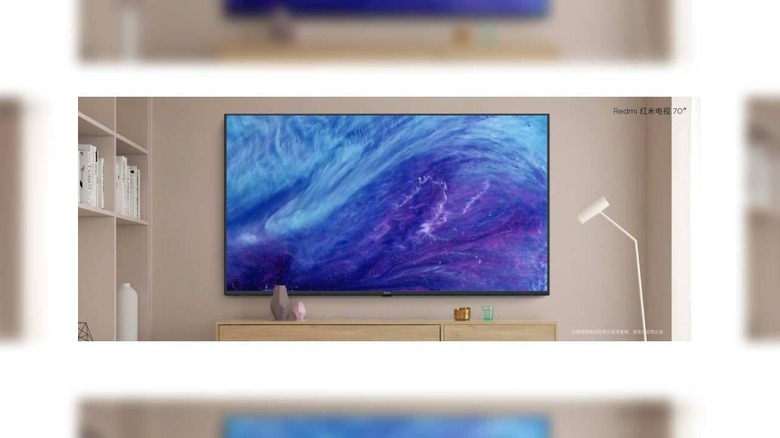 The first Redmi-brand TV was revealed today by Xiaomi, and it's a doozy. The Redmi TV 70" is a 4K TV with a starting price of RMB 3799. Converted directly to USD, that's around $530 – for a 70-inch 4K television. Unfortunate for us here in the USA, this television was made for release only on Mainland China. That does not mean Xiaomi won't EVER release a similar product in the USA – we will see soon enough!
This smart TV has a 6th Gen Amlogic processor with "14 image-enhancing technologies" which I'm sure we'll get more information on in the near future. This television's 64-bit octacore processor rolls with 2GB RAM and 16GB internal storage. To connect to the internet you'll have the ability to use 2.4G/5G dual-band WiFi with this set.
This television works with wireless screencast with Mi Laptops or Smartphones and works with a Bluetooth voice command-enabled remote control. With this remote, users can call upon the smart assistant by the name of XiaoAI.
This assistant (with the set) is able to control smart devices compatible with Mi systems, search for streaming shows or local media. This system can also access notifications and status updates from connected devices of several sorts. Redmi TV 70" also works with the PatchWall AI TV system to enable personalized recommendations for users.

This may be the first television ever released with the Redmi brand, but it's far from the first Xiaomi smart TV. (The Redmi brand is owned and run by Xiaomi.) Xiaomi's released millions of smart TV units over the past several years, and continue to ramp up. Today Xiaomi reported "global shipments reaching 5.4 million units in the first half of 2019" for Xiaomi smart TV sets.
Xiaomi cited a report from AVC, suggesting Xiaomi smart TV shipments had a 64.9% YoY growth (for the first half of 2019) ranking "within the top 5 globally" and first in mainland China. This same report suggested that in the second quarter of 2019, Xiaomi global smart TV shipments reached 2.7-million units, making it a YoY increase of 41%.
The Redmi TV 70" will be released for RMB 3799 with pre-orders starting on August 29, 2019 at 4:30PM China Standard Time. Users will be able to purchase this television set outright starting on September 10 at 10AM China Standard Time through "official Xiaomi Chinese mainland channels."