Red Fox Wizbook N1020i netbooks: Bluetooth 3.0 and eye-scorching colors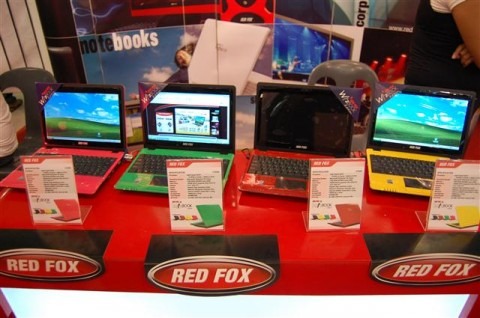 Red Fox call them colorful; we call them lurid.  Either way, the company's Wizbook N1020i netbooks have arrived, and aside from the paint-job it's mostly business as usual for the 10.2-inch 1024 x 600 machines.  Standout features are an ExpressCard 34 slot and, more unusual, Bluetooth 3.0 support.
Otherwise it's the usual 1.6GHz Intel Atom CPU, 160GB hard-drive and 1GB of RAM (maximum 2GB supported); ports include three USB 2.0, audio in/out and a memory card reader.  Connectivity is ethernet, WiFi a/b/g and of course that speedy Bluetooth 3.0 (if you can find any peripherals to test it out with).
Finally there's a built-in webcam, 4,400mAh 6-cell battery and – according to Electronic Pulp – a cramped keyboard and "dry plastic feel".  Battery life is estimated at "more than four hours ... with moderate to heavy usage"; the netbooks will cost around 21,190 pesos in the Philippines ($440).