Today is a big day for the Rockstar faithful, as Red Dead Redemption 2 has finally been released. It's been eight long years since the original Red Dead Redemption, so this prequel has been in the works for a long time. While we're sure many people pre-ordered the game, those of you buying a copy today have a decision to make, as there are multiple editions of Red Dead Redemption 2 available.
In this guide, we'll break down the content that comes with each edition so you can decide which is the one for you. The prices on these special editions actually aren't too bad – at least when we consider the special editions some other companies have come up with – so if you've got a little extra money beyond the required $60 buy-in, one of them might be worth considering.
Standard Edition
There isn't much to see here, unsurprisingly. The standard edition costs $59.99 and only includes a copy of the game, though it did have a couple of pre-order bonuses for those who decided to buy early. While the Treasure Map digital bonus required a pre-order by August 15, there's always the chance you get the other ones – War Horse and The Outlaw Survival kit for all editions and a story mode cash bonus for digital pre-orders – if you pick up a copy on launch day. Aside from those, though, don't expect to get much alongside the game when you buy the standard edition.
Special Edition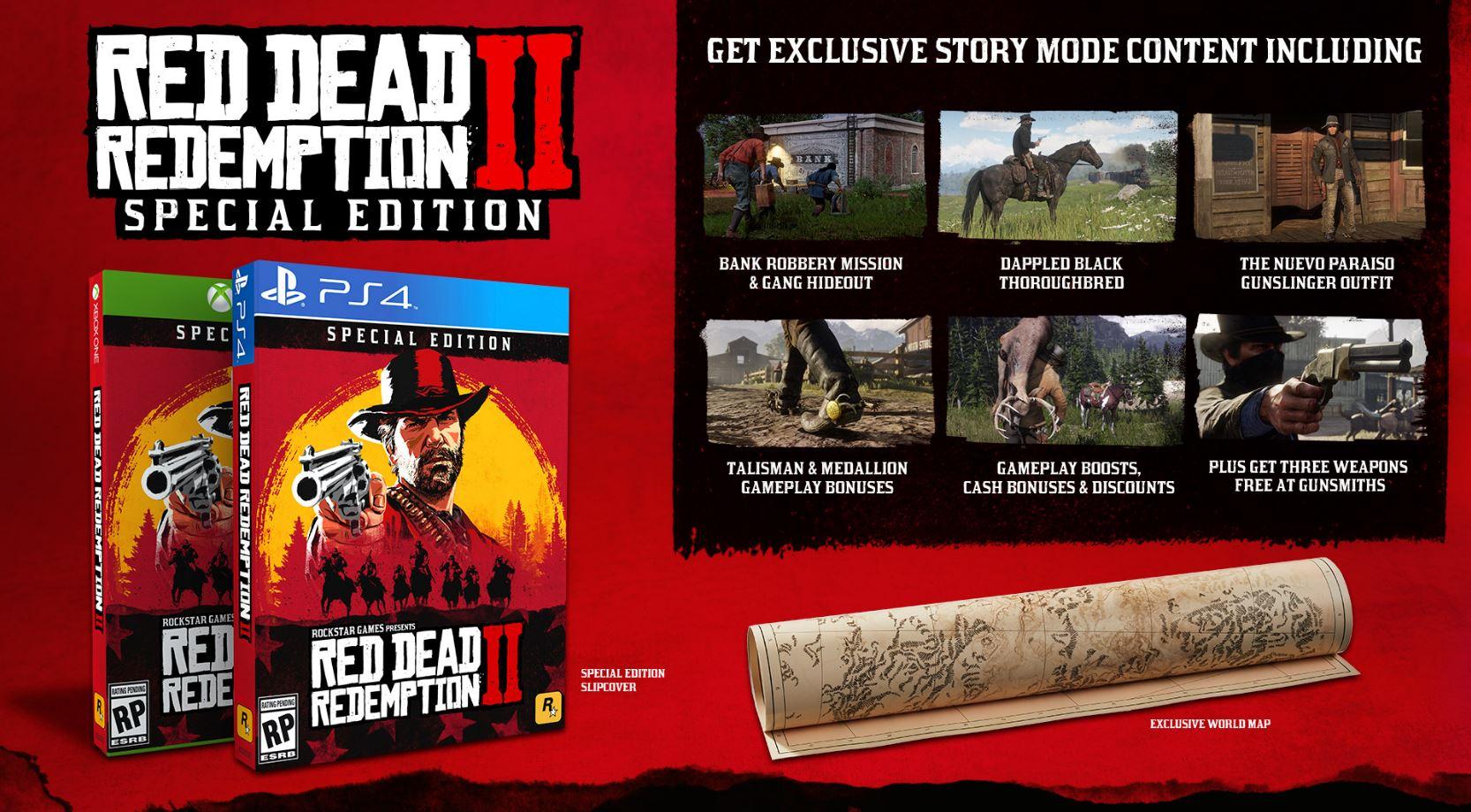 The Red Dead Redemption 2 Special Edition costs $79.99 and comes with a selection of extra content, including a bank robbery mission and a mission that tasks you with clearing one of the hideouts of the Del Lobos Gang. You'll also get a dappled black thoroughbred horse to use throughout the story and a matching saddle to go along with it, along with a special talisman and medallion that will give you a buff to environmental awareness and damage reduction while riding on horseback.
Players who pick up the Special Edition will earn more cash during robbery missions and get boosts to Arthur's primary stats: stamina, health, and Dead Eye. Beyond that, you'll get a discount on camp upgrades, a Nuevo Paraiso Gunslinger outfit, and access to three free weapons that you can pick up from one of the game's gunsmiths. If you pick up the Special Edition at retail, you'll get a physical world map too, which is a nice little bonus.
Ultimate Edition
The Ultimate Edition runs $99.99 and comes with everything the standard edition does while tossing in some extra goodies for the game's online mode. You'll be granted access to two bonus outfits to use online – the Blackrose Bounty Hunter Outfit and the Copperhead Enforcer Outfit – along with the black chestnut thoroughbred horse. Unlike the dapple black thoroughbred, you'll be able to use this horse in Red Dead Redemption 2's online mode.
The Ultimate Edition also comes with a special Survivor theme for your online camp, along with a rank progression boost that will earn you your first 25 ranks in online faster. If you're not planning to spend a lot of time playing Red Dead Redemption 2's online mode – which won't even enter beta until next month – you can definitely save some cash by skipping the Ultimate Edition and buying the Special Edition to unlock all of the single player bonuses. It should be noted that in addition to the physical world map, the Ultimate Edition also comes with a steelbook case if you buy at retail, which is something the Special Edition is missing.
Collector's Box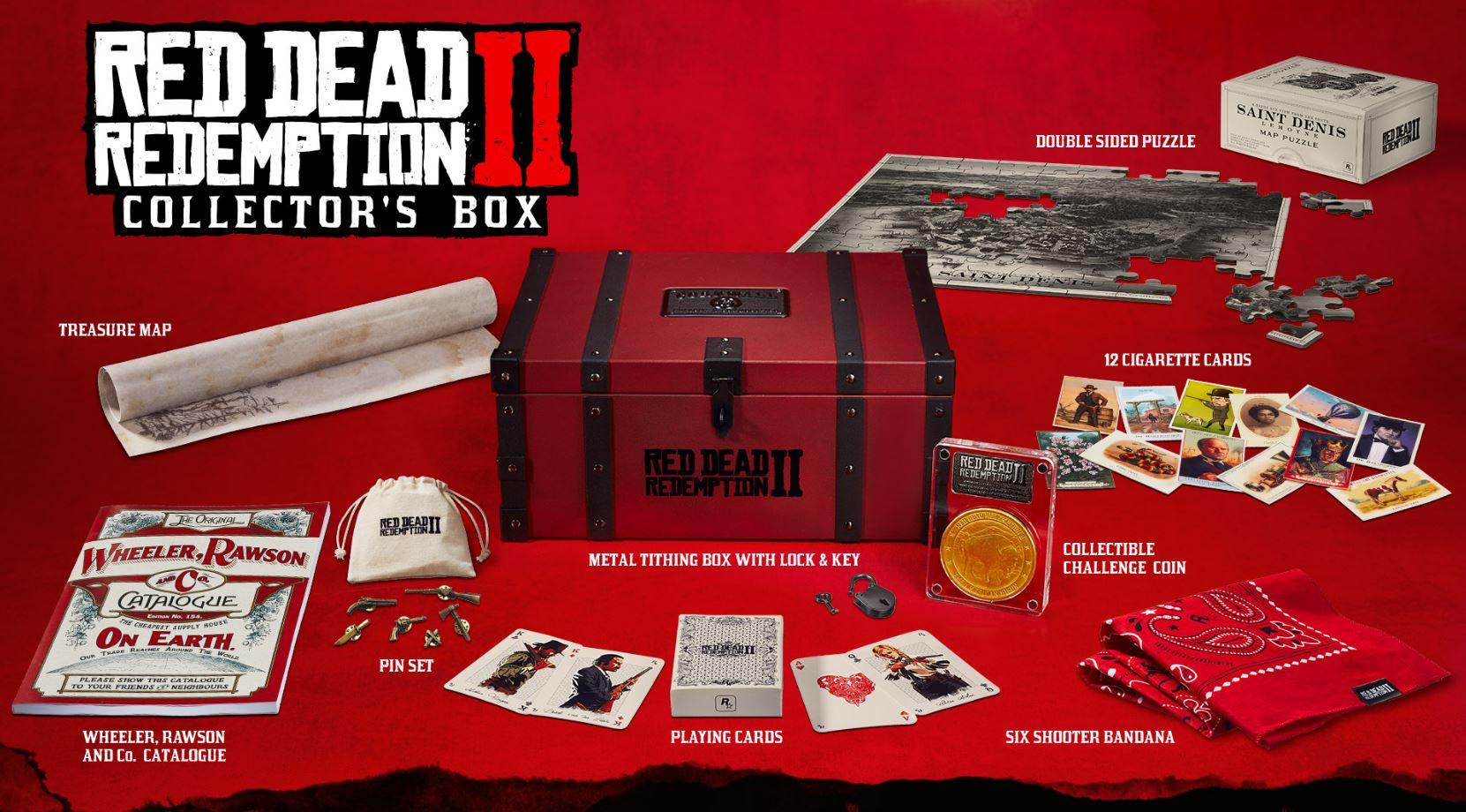 The Red Dead Redemption 2 Collector's Box is something of an oddity among the game's other editions. The Collector's Box will set you back $99.99, which is the same price as the Ultimate Edition. These two packages are priced the same because the Collector's Box doesn't actually come with a copy of the game – you'll need to buy that separately.
Instead, you'll get a bunch of physical goodies all themed around Red Dead Redemption 2. In it, you'll find things like a set of 12 cigarette cards, a double sided puzzle, and a set of pins. Some of the cooler items in the Collector's Box include a Wheeler, Rawson and Co. catalogue, a treasure map, a six shooter bandana, and a collectible coin. The Collector's Box might be a little difficult to find, as it's currently sold out on the Rockstar Warehouse. It's also available through select retailers, so if you call around today, you might be able to find one.
Wrap-Up
So, at the end of it all, the various special editions for Red Dead Redemption 2 don't come with anything major, just some additional side missions, cosmetics, or boosts. Boosts for a single player game are a little strange, but if you're primarily interested in the story and aren't looking for a particularly difficult playthrough, they could prove useful. Which edition are you thinking of picking up? Head down to the comments section and let us know!
SlashGear uses Amazon affiliate links, and if you buy something we may get a small share of the sale.