Rebound Rumble pushes robotics development with will.i.am and Bill Clinton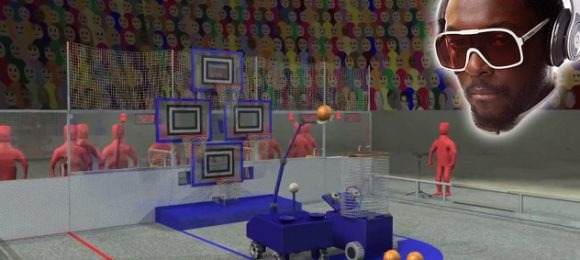 Robots playing basketball, with former US presidents George W. Bush and Bill Clinton, along with will.i.am and Segway inventor Dean Kamen in the audience, sounds like the setup to a bizarre South Park joke, but it's actually the kick-off of Rebound Rumble. A brand new game designed to encourage robotic development, Rebound Rumble sets two alliances – each consisting of three independently controlled 'bots – against each other to score points through a cluster of basketball hoops.
It's the first tournament in the FIRST Robotics Competition (FRC), sponsored by NASA among others, a program intended to get young people interested in science and technology. The Rebound Rumble game – which you can see played out render form in the video below – takes a pre-defined set of components from which the robots can be built, and then puts them on a basketball court together.
Initially, the robots must work autonomously – though one of the three can be directed using a Kinect sensor bar – before drivers can take full control and work together. Winning is thus a matter of teamwork as well as scoring through the different hoops – higher hoops garner more points, as does scoring during the initial autonomous "hybrid" period – while players can gain bonus points by balancing their 'bots on teeter-totter bridges.
A match lasts 135 seconds, though so far no teams have actually played: they currently have six weeks – and a video of will.i.am explaining the rules, below – to get their robots built, programmed and tested before the first games take place. As the great Black Eyed Peas philosopher says "let the games begin and keep on rockin'."