Rear-view GPS mirror hides 3.5-inch display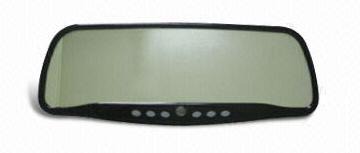 If you're running out of places to mount a small monitor in your car (because let's face it, after a couple of flip-down roof screens, a few pop-out ones in the dash, a handful of headrest-mounted displays for passengers and maybe replacing your airbag with a 32-inch LCD, you're running out of options) then how about Rexon's WP-888 Mirror GPS unit – it not only has GPS built in but a hidden 3.5-inch screen.

Inside the replacement mirror is an ARM 276MHz CPU running Windows CE 5.0, an RX-type GPS antenna and SD slot to load maps.  The screen is a 320 x 240 3.5-inch digital TFT capable of displaying 16.7m colours, while control is handled by a wireless touch-pad.  You can also plug in a rear-view camera, should your reversing skills not be too great, and an external GPS antenna for better reception (if your windscreen is heat-reflect coated, for instance).
Other options include Bluetooth for use as a handsfree kit, video and photo browsing and an MP3 player.  Sadly we'll have to wait until some canny importer picks this up, because right now the WP-888 is trade-only and costs $220-250 each.
Rexon WP-888 [GlobalSources]