RealNetworks Unifi streams from your online/offline catalogs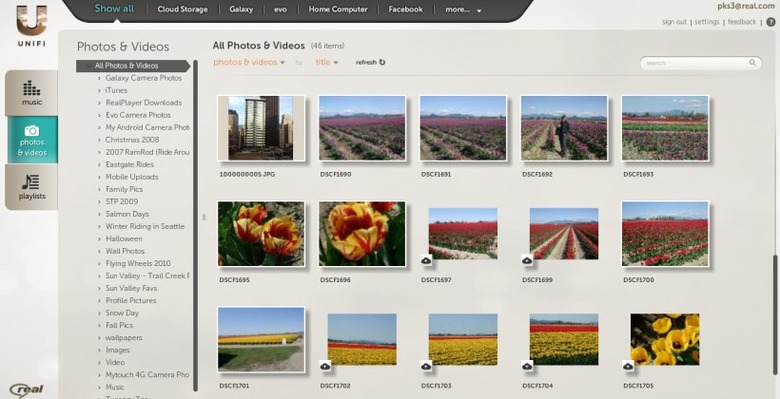 Streaming media is a big theme at CES 2011, and RealNetworks believes it has the magic required to help all your mobile devices share all your music. Rather than stream from a single point – usually a PC or home server – RealNetworks' Unifi pulls together your content from all local and network sources, as well as cloud-based storage such as Flickr, Facebook and more.Video demo after the cut
All of that content – including pictures, music and video – is catalogued (though left in place at wherever Unifi discovered it), and then streams them to your PC or Mac, your Android phone or any browser. Meanwhile, any device can act as a remote control for other devices, thanks to a remote page accessed with a browser.
RealNetworks promises cross-platform compatibility, so that iTunes tracks and playlists, for instance, will be accesible on your Android device. Finally, photos taken with Android or iOS devices are automatically uploaded to the cloud. If it works, it sounds like impressive stuff. Unifi is currently in closed beta, and a commercial launch is expected
Press Release:
RealNetworks Previews Unifi, the All-Inclusive Library of Your Digital Life

SEATTLE and LAS VEGAS, Jan. 6, 2011 /PRNewswire/ — RealNetworks®, Inc. (Nasdaq: RNWK), the digital entertainment services company, today previewed Unifi™, a new personal media cloud service that solves one of the escalating problems of the digital age: how to keep track of the thousands of photos, music tracks and videos stored on multiple devices and online services so a user can easily find and enjoy them.

Unifi, shown as a public preview today at the Consumer Electronics Show and expected to be available in early 2011, is the complete library of all the media you own, all accessible from any internet-connected device. It doesn't matter whether your digital content is stored on your devices, on your social media sites, or in the cloud. Unifi catalogues and organizes your content into a single digital library, organized in a way that lets you easily find, access and enjoy what you want – by media type, by device or through tags.

"RealNetworks already delivers vast amounts of digital content daily to millions of people around the world, and now we're bringing our expertise to the cloud with Unifi," said Robert Kimball, CEO of RealNetworks. "Our vision for Unifi encompasses everything from the mobile devices, online and social networking services of today to the connected TVs, cameras and game consoles of tomorrow – assuring that our customers can enjoy their content wherever it is."

"It used to be that the personal computer was the hub where we collected and stored all of our photos and music, but those days are over," said Hank Skorny, RealNetworks' senior vice president of media cloud computing and services and architect of Unifi. "Over 58 million Americans already own four or more connected devices, each storing various collections of photos and music. Add to that the many online services like Facebook and Flickr where we store our content and it quickly becomes obvious that finding the media you own is becoming a nightmare. That's why we created Unifi – it is the unified library of your digital life."

Unifi is intended for people who don't want the complex task of trying to integrate and organize their disparate digital collections themselves. Unlike other personal cloud services that focus on sync and storage of files, and far beyond a simple digital storage locker, Unifi brings your digital world together in a way not possible before.

What Unifi Does:

After installing a lightweight bit of software on your devices, you're ready to use Unifi. Unifi gives you:

One complete library of your digital content: Unifi catalogues all of the photos, music and video on all your devices and online services and represents them in the cloud. You can decide to store all of your collections in the Unifi cloud or just those you use often or need to take with you. But either way, you can see everything you own, whether uploaded to the cloud or not, on all your devices.

No barriers that restrict use of the collections you own: It doesn't matter whether your collections are purchased on iTunes or Amazon or whether the content you own is on Mac, PC, Android, iPhone, Facebook or Flickr – Unifi knocks down the walls between your digital libraries and lets you enjoy them no matter where you legally acquired them. For example, you can play the iTunes selections and playlists you own right from your Android phone. (see screen shots here)

All devices are "remote controls" for your library: All of your network-enabled devices can not only view and play your media, but they can also contribute to and control your digital library on any other device. It's like every device is a remote control for your content. Plus you can get full access to all of your content, on any device from any web browser.

Instant upload of your pictures from your smart phone: Most people use their iPhone or Android to take pictures – but those photos remain on the phone because it's cumbersome to manually upload them to your computer or to the cloud. Unifi automatically uploads your photos to the cloud without you doing a thing.

Unifi will begin public beta during the first quarter of 2011, followed by a commercial launch in the first part of the year. Free and premium versions will be offered, priced at about the same cost as a few lattes a month.