RCS activated for all Android phones in USA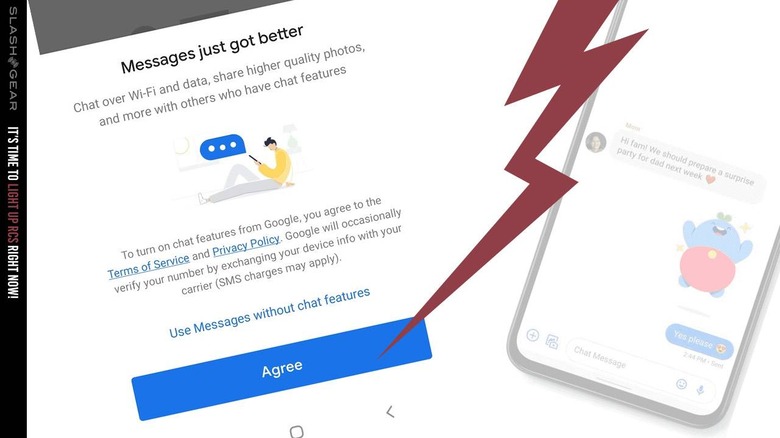 As of this week, the RCS chat protocol was activated for Android devices in the USA. This means that when you've got the official Google Messages app and the latest version of Carrier Services, you'll have a slightly more advanced version of SMS TXT messaging on your hands.
RCS is a long time coming – through several generations of chat apps from a wide variety of developers – but now it's here. But there's a bit of a catch. Not all devices in the world will attain RCS at the same time. This is sort of like when one of your friends was the first to get a smartphone and started sending video messages, but nobody else could see what he was sending.
Hi everyone! RCS is now available to all users in US as of Monday. Make sure to update both Messages and Carrier Services.

— Sanaz (@sanazahari) December 12, 2019
Once RCS is enabled on all of your friends' phones, you'll have a super good time sending all manner of neat messages back and forth. Until then, it's still gonna be a bit of a transition. It's best to test what works and what won't from phone-to-phone in a closed environment before you go trying to send important messages with attachments that can't wait!
To get RCS on your device, you're going to need two different apps – and the most updated version of both of these apps. You'll need Carrier Services, for one. That's an app that enables RCS – and mostly has to do with the Android Messages app specifically, at this point in history. Carrier Services does not really do anything on its own – you can't open it, for example. Instead, it's sorta like a toolkit that your phone uses to access the powers of RCS, via your mobile carrier service.
You can get the Messages app from Google Play for Android right now, if you desire. Much like similar apps – like WhatsApp – there's a way to get Messages working in your web browser on your desktop computer. You'll just want to head over to "text on your computer" with Messages for web.