RC Ferrari slightly more affordable than F1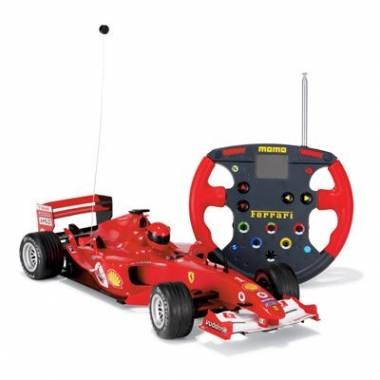 You're a petrol-head, you live for the thrill of the open road.  Your dreams are filled with the roar of mighty Ferrari racing cars, and you'd give your left lung (or at least someone's left lung) to get behind the sculpted wheel of an F1 car.  But your desires are greater than your talent, and there's little chance of them calling you up now that Schumacher has left the building.  Scalextric is just too confining for you, so what do you do?
Well, the answer could be "buy one of these remote-control Ferraris".  Yeah, it's only 1/12 scale rather than being full-sized, but let's face it – where would you keep a full-sized plastic Ferrari?  The racing-replica wheel operates the scaled-down beast, while a diddy little camera beams back a driver's-eye view to its built-in screen.  Don't ask me what all those other buttons do, however; they may adjust the suspension and radio in to the pit-lane, they may just be stick-on decals.
Yours for $275, which I fear you couldn't even buy a real Ferrari wheel nut for.
Product Page [via acquire]