RazorBook 400: small, but quick boot claims debunked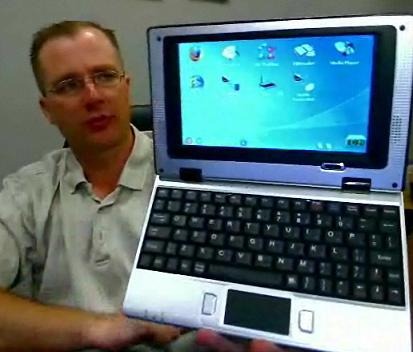 The RazorBook 400 looked to be yet another budget ultraportable consigned to the "Eee rival" pile, until 3K Computers grabbed a niche by slashing its launch price to just $299. That perked some interest, even if the spec sheet wasn't all that impressive. GottaBeMobile are one of the first sites I've seen with a RazorBook in to review; their initial hands-on video is after the cut.
The RazorBook 400 has an Ingenic 400 MHz 32-Bit Single Core Mobile Processor, paired with 512MB of DDR2 RAM. Overall size is 8.25 x 5.5 x 1.25 inches, and the display is WVGA 800 x 480. Both WiFi and 10/100 ethernet are onboard, though no Bluetooth, as well as three USB ports, a modem and stereo speakers.
Storage is courtesy of 4GB of flash memory – 3K Computers initially suggested a mere 8 second boot-up, but Rob times it closer to 45 seconds. He's promising an in-depth review later.