3K Computers RazerBook 400 ultraportable gets bargain $299 tag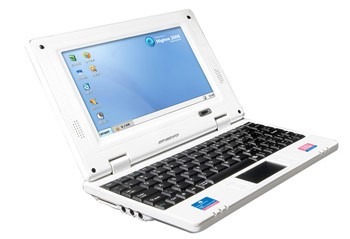 3K Computers have finally got around to launching their Eee-rival, renaming it in the process from the Longitude 400 to the RazerBook 400.  More interesting, however, is the price adjustment: it now carries a MRSP of just $299.  For that, you get a 7-inch screen, sub-2lb weight, 4GB of flash storage (for a claimed 8 second boot) and 400MHz processor.
Both WiFi and 10/100 ethernet are onboard, though no Bluetooth, as well as three USB ports, a modem and stereo speakers.  The CPU is an Ingenic 400 MHz 32-Bit Single Core Mobile Processor, and it's paired with 512MB of DDR2 RAM.  Overall size is 8.25 x 5.5 x 1.25 inches, and the display is WVGA 800 x 480.
Back in April, we were pretty much unmoved by the notebook because of the price; ASUS' Eee PC 2G Surf undercut its original $399 estimated tag while offering twice the storage.  3K themselves are curiously describing the RazerBook as "a unique product that was designed as a low-cost portable Internet appliance, not to replace your home PC or Notebook computer," which does seem to describe exactly what ASUS intended for the Eee (not to mention hordes of other such Linux-based machines), but with that bargain price we'll forgive the hyperbole.  The 3K Computers RazerBook 400 should be available now (the product page shows the old MRSP, but the order page has the new, $299 price).Press Release:
3K Releases $299 RazorBook 400 Notebook Computer

LOS ANGELES –(Business Wire)– May. 28, 2008 3K Computers, LLC (3K) is pleased to announce the release of its newest laptop computer — the 3K RazorBook 400 Mini Notebook Ultra Mobile PC – it's ultra light-weight just under 2 lbs and includes a 7-inch LCD TFT Display and a full-size keyboard for a new MSRP of $299! The RazorBook 400 is perfect as a low-cost portable internet appliance for mobile professionals, students, internet browsing on the go, playing Flash games, secure online shopping, instant messaging, and playing music and movies while on the road.

With a boot-up time of less than 8 seconds, the RazorBook 400 was designed to be turned on and off instantly just like any other appliance in your home. The energy-saving processor is fan-less and offers completely quiet computing with very low energy consumption. One of the other popular features is its Trojan-free and virus-free operating system making it perfect for secure Internet applications such as online banking. Without a spinning hard disk drive, the RazorBook 400 is shock-resistant and touts 4GB of solid-state storage for your documents or media files.

Sure to be a favorite among students and travelers, the RazorBook 400 Mini Notebook UMPC supports mobile broadband Internet use, rich web content, and is ready to handle basic business tasks with an included suite of Office tools. The open source Office Suite opens most Microsoft(R) Word Files and Excel Files, includes an E-mail Client, and a PDF Reader. In addition, you can access your Microsoft(R) Outlook e-mail through the included Mozilla Firefox browser. Also, there is a bundle of consumer software included with applications such as games, schedulers, music players, movie players, planners and more.

"The day has finally arrived and the 3K RazorBook 400 is now hitting the US market. We just lowered our MSRP to $299 as part of this exciting announcement. There has been a lot of comparison from bloggers to the Asus eeePC due to its similar 7-inch LCD form factor. The 3K RazorBook 400 is a unique product that was designed as a low-cost ($299) portable Internet appliance, not to replace your home PC or Notebook computer," said Dan Jacobs, CEO, 3K Computers. The RazorBook 400 is available at most major online e-tailers for consumers. Resellers and Value-Added Resellers can purchase directly from Ingram Micro, the world's largest technology distributor.

About 3K Computers, LLC:

3K Computers, LLC, is a trusted information-technology manufacturer that sells a complete portfolio of products and services to customers throughout North America through the company's authorized distributors, VARs and channel partners.

Known best by the statement, "You Want It, We Build It," 3K designs, builds and delivers innovative, tailored systems that provide customers with exceptional value. With U.S. based manufacturing and service organizations, 3K provides rapid responsiveness via U.S.-based, Tier 1 technical support and customer service. For more information, call (888) 590-8215, e-mail: sales@3kcomputers.com or visit http://www.3kcomputers.com.